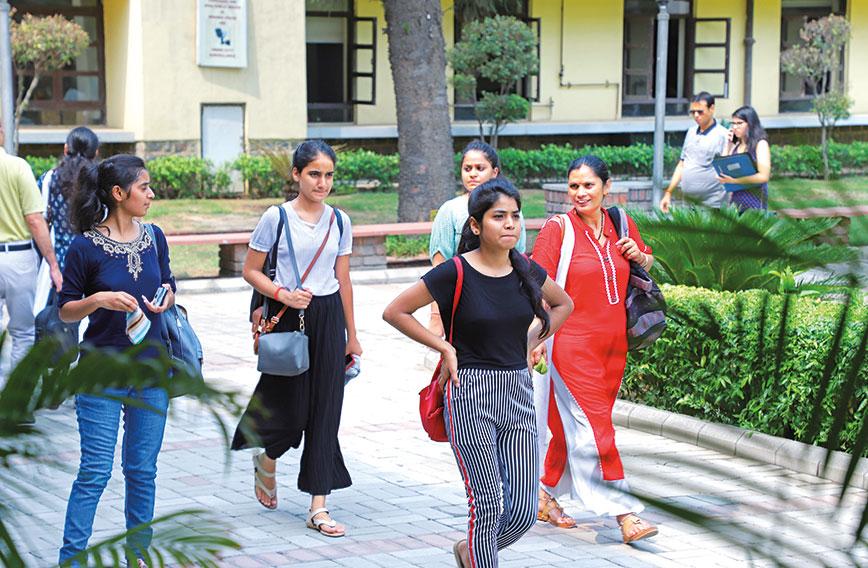 Students at Miranda House | Photograph by Shrey Gupta
Women's safety: DU colleges get their act together
Sidika Sehgal, New Delhi
Published: Aug. 17, 2019
Updated: Jul. 06, 2020
Last year, when girl students of Gargi College, Kamala Nehru College and Jija Bai Industrial Training Institute for Women on Delhi University's South Campus complained of being harassed in buses, the principals of the three colleges got together to seek a solution.
They called a meeting with the local MLA, an official from the Delhi Transport Corporation (DTC) and an official from the DMRC (Delhi Metro Rail Corporation) to discuss what could be done. Through their collaborative effort, bus no. 544 now plies exclusively for women at 8.30 am and 4.45 pm on weekdays.
Also, every year, Gargi College's National Sports Organisation conducts a self-defence workshop for first-year students, sometimes in collaboration with the Delhi Police. The objective is to empower women to protect themselves.
"You have to have the courage to fight back," says Dr Promila Kumar, principal of Gargi College.
New Delhi is infamous for crimes against women but colleges are now taking proactive steps to safeguard their students inside and outside their campuses.
They have taken an order by the University Grants Commission (UGC) on sexual harassment with extreme seriousness. On May 2, 2016, the UGC made it mandatory for every college and university to have an Internal Complaints Committee (ICC) to address sexual harassment of women employees and students in higher educational institutions.
The order underlined the fact that women's safety is not just a women's issue. The State and its institutions are fully responsible.
AT GROUND LEVEL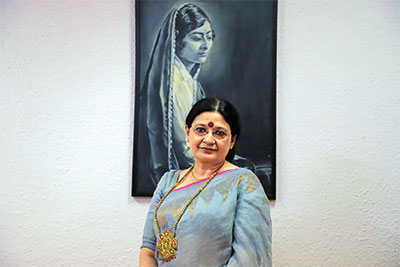 Kamala Nehru College doesn't have a hostel for its students. So the students live in paying guest (PG) accommodation in nearby colonies like Gautam Nagar, Sadiq Nagar, East of Kailash and Malviya Nagar. The college has set up a Proctorial Committee of male and female faculty members which patrol all these areas.
Dr Kalpana Bhakuni, principal of Kamala Nehru College (left), said that they have ample space on their campus to construct a hostel. But because of the proximity to the ruins of Siri Fort, a historical area, they cannot undertake any construction. The Proctorial Committee makes sure that the area is safe and that students don't face difficulties while walking back from college.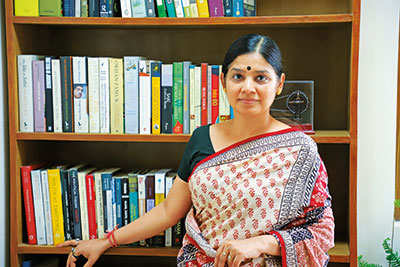 "Young people don't report sexual harassment because they feel judged," said Dr Bijayalakshmi Nanda, the acting principal of Miranda House (right). She realised that students may be hesitant to talk about sexual harassment with people they don't know. To tackle this, along with the ICC, Miranda House has constituted a Gender Sensitisation Committee (GSC), which has a representative from each class.
If a student doesn't feel comfortable talking to the ICC representative, she can report the incident to the GSC representative who then takes it up with the ICC. The effort is to change attitudes associated with sexual harassment and thereby de-stigmatise it. All complaints are taken very seriously.
How far would the ICC go to punish the accused? "We can ban their entry into the college and we have done so in the past," says Dr Vibha Singh Chauhan, principal of Kirori Mal College. The order is extremely well-crafted — it has checks and balances for misuse as well.
College girls often get harassed on the street by men on bikes or in cars. In such a situation, filing a complaint is not an option because there's no way of knowing who the man or men were. But talking about these incidents is cathartic.
Miranda House has started a peer mentorship programme for such conversations. Dr Nanda says that collectives, especially of women, can be very powerful. She cited the case of a student who went through a divorce while she was studying at Miranda House. The student required no emotional support from her family because her friends stood solidly by her every step of the way.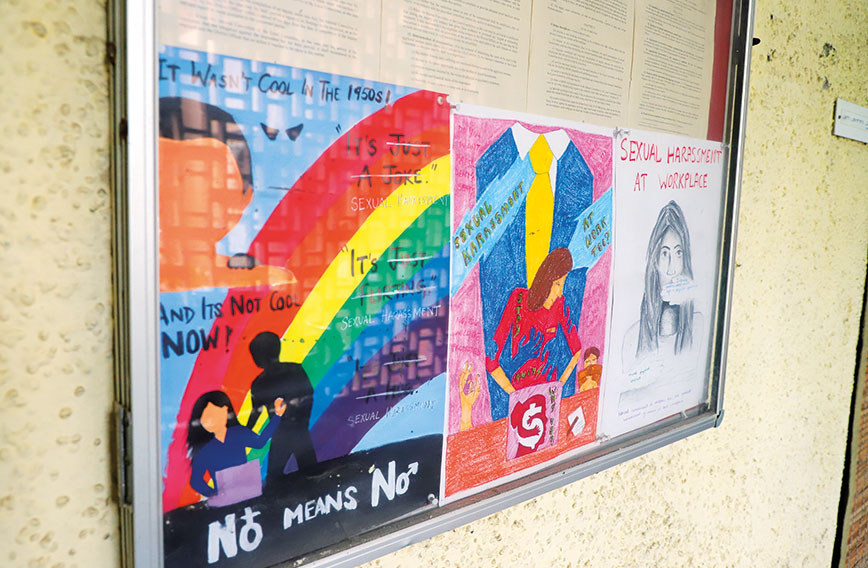 Posters by students on sexual harassment at Kamala Nehru College | Photograph by Shrey Gupta
Students often talk about harassment by family members and Dr Bhakuni understands how sensitive such conversations could be. When students bring these experiences to college, the college must do whatever it can to empower the students, she says. Kamala Nehru College, for instance, has a counsellor who students can talk to and seek advice from.
TALK AND LISTEN
CCTV cameras, police patrol cars outside colleges and better lighting in the area help the cause of safety. But larger solutions, which get to the root of the problem, are also needed.
"Awareness is the key," said Dr Monika Koul, NSS Program Officer of Hansraj College. Every year, Hansraj College conducts a seminar, once for their students and once for their non-teaching staff, to talk about what comes under the purview of sexual harassment.
An orientation session to sensitise students about what constitutes harassment is the norm in most colleges. Dr Chauhan pointed out that students come from diverse backgrounds and may not have had exposure to conversations on sexual harassment. Therefore these conversations are important. No one is born with a perfect understanding of what's acceptable and what's not. "Women have to be made aware of their rights and men have to be made aware of the limits of their rights. Even a call from a boy at 2 am can count as harassment, if it is an unsolicited call," pointed out Dr Chauhan.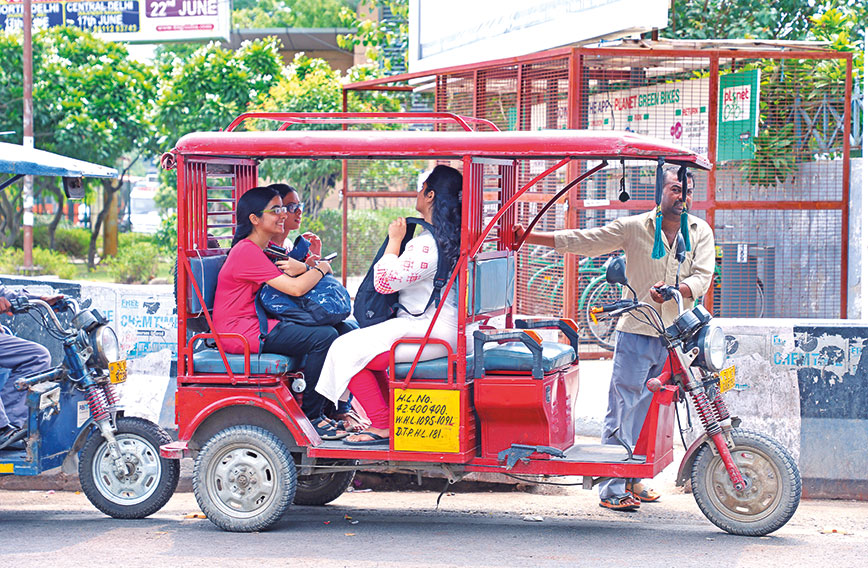 Girls take a ride on an e-rickshaw at North Campus | Photograph by Shrey Gupta
Gender sensitisation programmes seek to correct notions that girls are brainwashed into believing. Dr Charu Dogra Rawat, the convener of the Ramjas College's Women's Development Cell, cited the case of a female student who was in an abusive relationship and didn't even realise it until her friends pointed it out to her. She hoped that both boys and girls would become volunteers of WDC in the coming year because patriarchal ideas influence boys too.
At Miranda House, the Women's Development Cell invites police officers for gender sensitisation seminars. Dr Nanda believes that if their attitudes towards women's safety change, they will become more approachable for girl students.
The recent proposal by the AAP government to make the Metro free for women has opened up a discussion on the politics of public spaces. Free Metro or not, the conversation about how to make our cities safer for women is not for feminists or for women alone. It must include all citizens, especially policymakers and those who plan our cities.