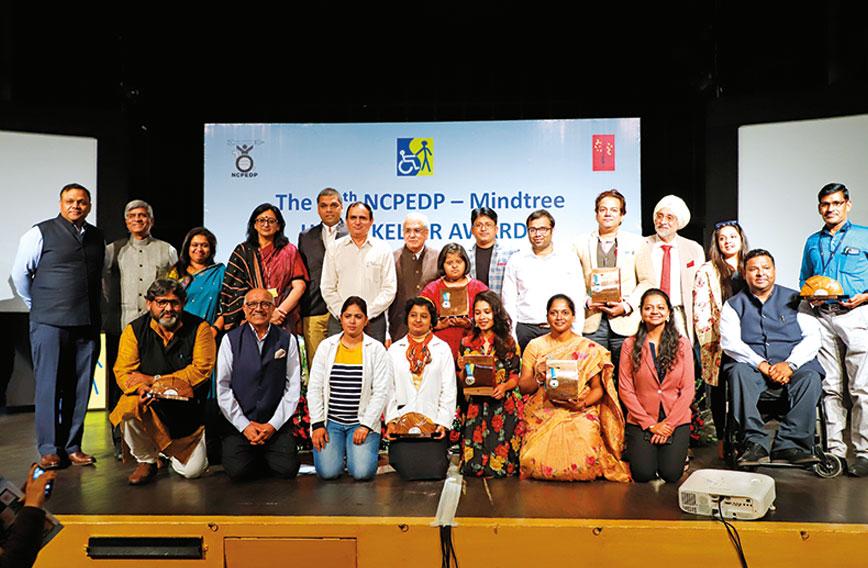 Winners of the 20th edition of the NCPEDP-Mindtree Helen Keller Awards with Rajiv Kumar, vice chairman, Niti Aayog (back row, seventh from left) | Photograph by Shrey Gupta
Awards celebrate skills and jobs
Sidika Sehgal, New Delhi
Published: Dec. 24, 2019
Updated: Jan. 23, 2022
Aditi Verma runs a café in Mumbai called Aditi's Corner. M. Ummul Khair studied law and then set up a legal aid centre for persons with disability. Aditi has Down Syndrome and Ummul has cerebral palsy but that hasn't prevented them from realising their dreams.
They were felicitated, along with other achievers, at the 20th edition of the NCPEDP-Mindtree Helen Keller Awards. An initiative of the National Centre for Promotion of Employment of Disabled People (NCPEDP), the awards recognise individuals, NGOs and corporates for their work in promoting employment for people with disabilities.
The mood was celebratory at the event, held on December 2, at the India Habitat Centre. The chief guest this year was Rajiv Kumar, vice chairman, NITI Aayog. He said, "I hope the awards serve as an example to all of us. These efforts do not get the visibility they deserve."
Arman Ali, executive director of NCPEDP, said their next step is to take the awards to tier 2 and tier 3 cities. Data on disability and people with disability is still insufficient and sometimes incorrect, said Som Mittal, NCPEDP's chairman. "The Rights of Persons with Disabilities Act, 2016 is recognised as the most progressive Act in the world. We need the same zest in implementing it," he said.
The awards are supported by Mindtree. Debashis Chatterjee, managing director and CEO at Mindtree, remarked that every year, the number of nominations for the awards increase, a sure sign that things are changing.
Other guests were Tarika Roy from the Department of Empowerment of Persons with Disabilities and Arvind Gupta, non-executive director, Larsen & Toubro.
The event would have been incomplete without mention of Javed Abidi, founder-director of NCPEDP, who passed away in 2018. "His mere presence was a driving force in the sector," said Akhil Paul of Sense International India, one of the awardees.
The awards were announced under three categories.
Role Models / Persons with Disabilities
Shriram Parthasarathy is Marketing Communications Manager with Microsoft India. He has been making Microsoft India's websites and their social media content 100 percent accessible. He is also responsible for conducting sensitisation and awareness workshops for Microsoft employees.
Vineet Saraiwala, a postgraduate from the Indian Institute of Management in Bengaluru, works for Big Bazaar in Mumbai. He has been making retail stores accessible for people with disabilities. This includes providing assistive services and designing spaces for greater accessibility. He also leads training and sensitisation programmes for over 30,000 Big Bazaar employees.
Aditi Verma runs Aditi's Corner, a café in Mumbai with two support staff. She is involved in sales, customer engagement and managing the inventory. She hopes to use space in the café to train people with special needs so that they can become self-reliant. The support of her family has been crucial and Aditi plans to extend the same help to others.
M. Ummul Khair, who has cerebral palsy, graduated with a law degree from Dr Ambedkar Government Law College, Chennai. She works as an advocate and at the Disability Legislation Unit in Chennai on advocacy, inclusion, education and employment for persons with disabilities. She has set up a Legal Aid Cell for persons with disability under the State Legal Services Authority in Chennai.
Role models for job creation
Surender Singh has been working as a special educator for 19 years. At Muskaan, a non-profit, he developed a vocational and life skills curriculum as well as training modules for adults with disabilities. He has also designed a training process to facilitate placement of 48 adults with Down Syndrome in companies like Lemon Tree Hotels, Radisson Country Inns & Suites, Four Point Sheraton, Hindustan Petroleum, Microsoft, Jubilant and CBRE, a real estate company.
Avinash Dugar is founder and CEO of La Gravitea, a café in Jamshedpur. The café employs hearing impaired boys and girls who are first put through a training programme where they learn to prepare food and beverages, and manage other operations of a café.
Alina Alam started Mitti Café in Bengaluru in 2017 to help persons with disabilities find a sustainable and dignified means of livelihood. The café is run and managed by people with disabilities. Mitti Café also trains its staff for the roles in which they are employed.
Companies / NGOs / Institutions
The Association of People with Disability in Bengaluru has been working with persons with disabilities since 1959. They impart skill training in hospitality, retail, office management, and on sensitising employers for moving towards inclusion. Till date, their work has impacted more than 500,000 people with disabilities.
Sense International India is working in 22 states in the country with over 78,000 children and adults with deafblindness. Deafblindness is a disability in which the individual can have varying degrees of hearing and visual impairment. Sense India has trained and found jobs for 500 young adults.
Subros Ltd., Manesar has an equal opportunity policy in place to empower people with disabilities. They have collaborated with non-profit organisations for recruitment of people with disability. After conducting job mapping surveys, they identified 10-12 areas in which they can recruit people with disabilities.
Vishal Mega Mart in Gurgaon employs more than 700 people with disability as store associate, billing associate, receptionist and department manager. They are employed in 282 locations across 28 states and Union Territories. Back in 2012, there were only 21 people with disabilities. That number has grown exponentially.
Infosys has partnered with organisations like Business Disability International in the UK and the Australia Network for Disability to champion an inclusive and equitable workplace.