Published: Nov. 24, 2020
Updated: Feb. 26, 2021
Ulat Kambal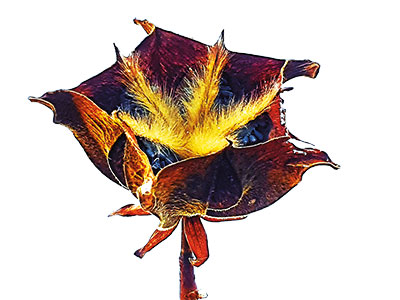 This lovely flower enchants you with its warm hues. It's called Ulat Kambal, which means inverted blanket in Hindi, an allusion to its drooping flowers and soft texture. Scientifically known as Abroma augusta, Ulat Kambal is a spreading shrub which grows to a height of five metres. Its flowers are deep maroon, showy and large, up to five cm across. The flower has delicate petals and a deep green bud, enhancing its beauty and adding a touch of glamour to any garden. A bunch of Ulat Kambal is like a work of art painted by nature. When its dainty petals quiver in the breeze, it seems this lovely flower is shyly trying to express its feelings.
In India, Ulat Kambal is found across the tropical forests of the Northeast and along the country's east coast. Ulat Kambal is often planted in gardens for its spectacular flowers. But it is also a medicinal plant, useful in healing irregular menstruation, polycystic ovarian syndrome and thyroid disorder.
Nelabevu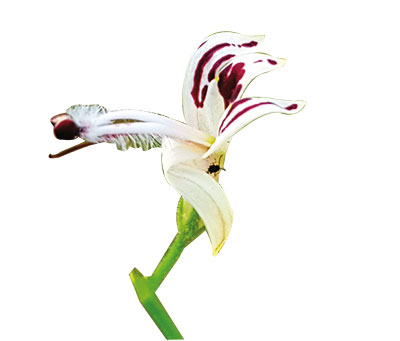 With its hooded white flowers spiked with purple tinges, Nelabevu looks artistic. It can enhance the colour palette of a garden. Nelabevu means herbaceous neem tree in Kannada, a reference to the plant's bitter-tasting properties. This flower is well-known and has many names. In Sanskrit, it's called Bhunumba, in Tamil, Nilaveambu, in Telugu, Neala Veappa and in Malayalam it's called Kiriyatu. Traders refer to it as Kalmegh. Its official, botanical name is Andrographis paniculate.
Nelabevu's petite flowers arranged on a stalk look like tiny birds sitting on tender branches. Densely packed racemose flowers can be gifted as seasonal bouquets. When planted in clumps its numerous stems and flowering twigs add colour to the landscape.
Nelabevu is used to prevent dengue and to combat influenza, itching due to poisonous bites, wounds, ulcers, and chronic fevers, malarial and intermittent fevers, inflammation, skin disease, intestinal worms, diarrhoea and dysentery.
Kaanthal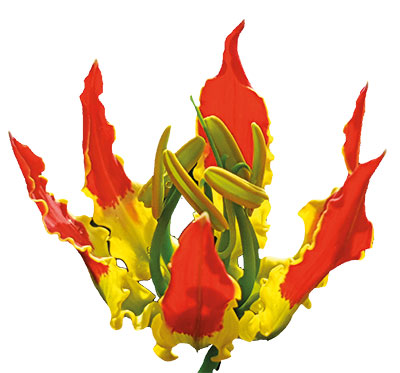 Kaanthal is the State Flower of Tamil Nadu. A poem on 99 flowers, found in Kurinji Paattu, a genre of Sangam literature, begins with the name Kaanthal, illustrating the importance of this plant. Kaanthal's botanical name is Gloriosa superba. The words 'glory' and 'superb' in its botanical name rightly describe the beauty of this wild flower.
The flower's striking arrangement of five red-tipped yellow petals are often compared with a lady's fingers decorated with henna in Tamil literature. The stamens of Kaanthal are very distinct, being four cm long with conspicuous rotating anthers. Kaanthal is also called Flame Lily. It is commonly found in tropical thorn forests and along wayside thickets near foothills. The flower blooms immediately after the monsoon.
In our traditional systems of medicine, Kaanthal is used for treating skin diseases, intestinal worms, chronic ulcers, leprosy, cancer, head lice and as an antidote for poisonous bites. It is known as Langeli and Agni Shika in Sanskrit, Gourihoo in Kannada, Kali Haari in Hindi, Medoni in Malayam, Adavi Nabhi in Telugu, Kalalavi in Marathi and Dhoodiyovachan in Odia.
Indian strawberry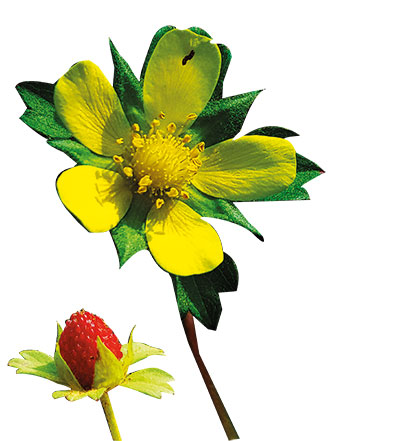 With its red berry, yellow flowers and green petals, the Indian strawberry is a pretty sight. The plant's botanical name is Potentilla indica. This flowering herb is a creeping, perennial which, when planted, covers the ground like a carpet. Its branches are reddish in colour with solitary yellow flowers two cm across in size with five petals.
The Indian strawberry is cultivated for its fruit and is introduced in gardens as an ornamental ground covering to limit the growth of other weeds. Its spreading branches with yellow flowers look exceptionally attractive on lawns. The Indian strawberry is a wonderful choice for landscape design because it looks brilliantly wild. It is ideal for bordering gardens, for golf grounds and for man-made savannahs. Its edible fruit invites chirping birds!
Indian strawberry is recommended for eczema in our traditional systems of medicine. Fresh leaves are used in salads and dried leaves can be used to make tea. This flowering herb grows in the North and Western Himalayas at altitudes between 700 to 2500 m above sea level.
Sarpagandha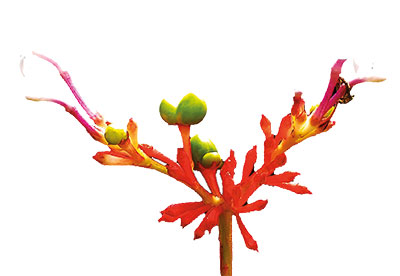 Sarpagandha, botanically known as Rauvolfia serpentine, is a Red-listed medicinal plant. That means it's a rare endangered plant especially in Karnataka, Kerala and Tamil Nadu. Sarpagandha is a native, perennial, evergreen undershrub, which reaches a height of one metre. The plant grows in clusters of exuberant blooms.
Sarpagandha is an eye-catching plant with white flowers and reddish floral parts. It can pretty up any dull garden and convert a boring landscape into a glorious green-white one. This plant is a great backdrop for a lawn garden.
It also has medicinal properties. The roots of the Sarpagandha are used for treating hypertension, fever, wounds, sleeplessness, epilepsy, and giddiness. The plant grows in Himachal Pradesh, Arunachal Pradesh, the Western and Eastern Ghats as well as Eastern and Central India.
Kopouphool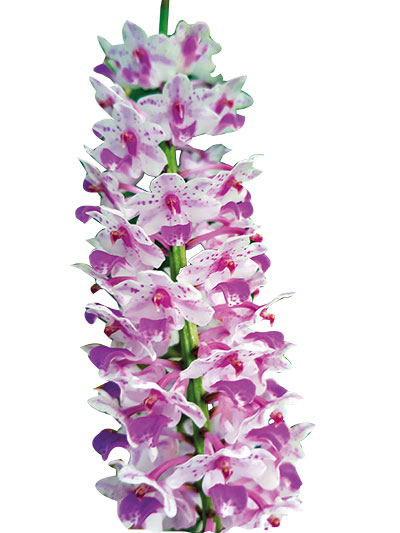 This lovely Foxtail orchid is known as Kopouphool in Assam. It plays an important part in the culture of the Assamese people and hence has been adopted as the State Flower of Assam.
All orchids are stunningly beautiful. But Kopouphool, or Rhynchostylis retusa, is special because it also has medicinal qualities. An epiphytic orchid, it is famed for its marvellous, long-lasting blooms. Epiphytic orchids have special types of roots called velamen roots through which atmospheric moisture and nutrients are absorbed. This species can be found hanging on to tree trunks. Numerous flowers on drooping stalks makes it look like a flowery waterfall. Pendulous long racemes entwined around tree trunks look as if the trees have been decorated with glorious garlands! Flowers are arranged in all directions of the stalk, yielding a 3D look!
The roots of the Foxtail orchid are traded in the name of 'rasna' and used to treat rheumatism. In Hindi and Kannada this orchid is called Draupadimaala (Draupadi's garland) and Annaanvaalan (squirrel's tail) in Malayalam.