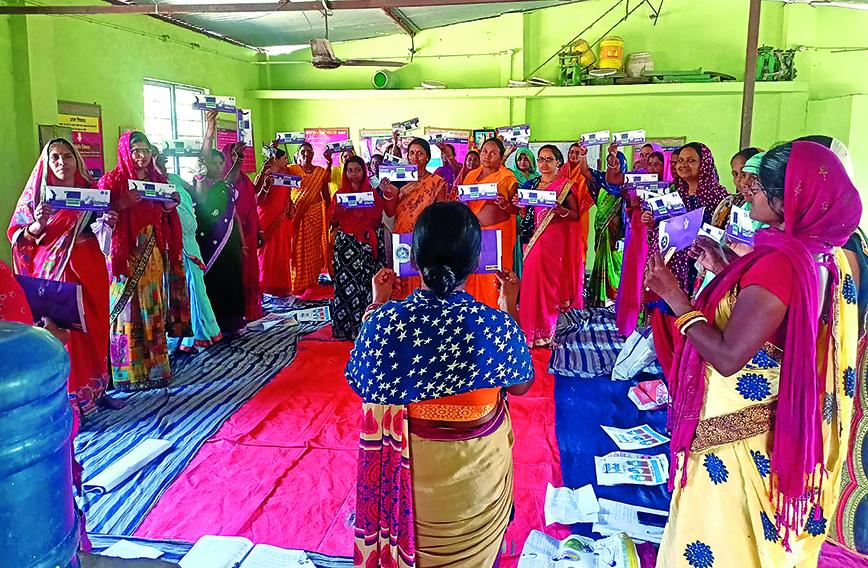 A meeting of SHGs discusses marketing strategies
How to bust a myth with a good booklet
Kavita Charanji, New Delhi
Published: Jul. 04, 2023
Updated: Jul. 04, 2023
WHEN two women daily wage workers in Sakra block of Muzaffarpur district in Bihar couldn't afford to pay for a superior quality of sanitary pads, the women's cooperative manufacturing the pads decided to give it to them free every month until their SHG got off the ground.
"It's a question of women supporting women," says Ayush Poddar of Bookletpedia that is part of the Haq project, a collaboration between Bookletpedia, EdutopUp and the Bihar government's Sachhi Saheli Sanitary Napkin Producer Cooperative Society Limited (SSSNPCSL).
The two companies, Bookletpedia and EdutopUp, helped the cooperative set up the sanitary pad factory in Sakra under the Chief Minister's Skilled Workers Entrepreneur Cluster Scheme. During the Covid-19 pandemic many migrants returned home to Bihar. The factory was set up to provide employment to women and improve their access to hygienic sanitary pads.

"The objective of the Haq project is to create income-generating opportunities for women, irrespective of their household's economic status," says Piyush Poddar, co-founder of Bookletpedia, that designs Information, Education and Communication (IEC) material and trains people at the grassroots.
The factory is being run by the Sachhi Saheli Utpatak Samiti, a collective of Self-Help Groups (SHGs), set up with help from JEEViKA, the Bihar government's social and economic empowerment programme for the rural poor.
The women are being trained in leadership, communication, team-building, accounting and sales. Bookletpedia is helping them market the sanitary pads and teaching them soft skills. Logo, tagline, and packaging have been designed to create a distinct identity for the Haq sanitary pads. EdutopUp is providing technical support and liason expertise.
The manufacturing facility, set up in 2020, has so far produced 6,000 sanitary napkins, six in a pack, priced at Rs 35. It has a production capacity of 30,000 sanitary napkins. The women have been trained to manufacture the pads themselves. The cooperative's company is called Sachhi Saheli Sanitary Napkin Utpadak Swawlambi Sahkari Samiti Ltd.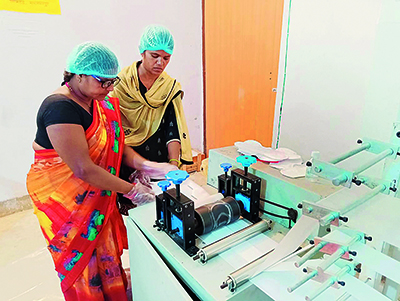 The women's collective manufactures the sanitary pads
"The pads are manufactured using an automatic machine as per the IS-5405 sanitary napkin standards set by the Bureau of Indian Standards," says Piyush with pride.
The cooperative says their Haq sanitary pads are superior to ordinary cotton ones because they are ultra-thin, more absorbent, last longer and are therefore cost-effective.
"The pads are based on the Super Absorbent Polymer (SAP) gel technology so they are far more absorbent than cotton pads. They have an absorption capacity of over six hours," says Ayush Poddar, co-founder of Bookletpedia and Piyush's brother. "Because they are more absorbent, the upper surface of the pad remains dry so it keeps diseases associated with less absorbent pads at bay."
However, marketing the pads has been challenging. The local community of Sakra block is largely impoverished. Many are daily wage labourers, small kirana shop owners or farmhands.
When the team conducted a survey along with members of the SHGs they found that 92 percent of 141 women respondents used ordinary cotton sanitary pads, priced at Rs 30. Eight percent of women said they used cloth. But cloth needs to be dried in the sun, which is not always possible due to space constraints, so the women dried them indoors. This made them prone to disease. The team was concerned about the eight percent of cloth users.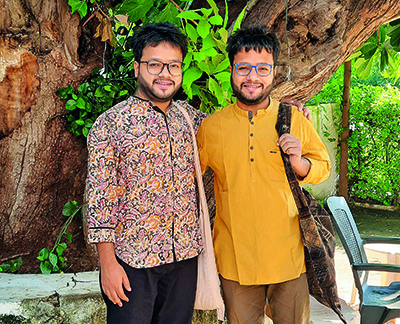 Piyush Poddar and his brother, Ayush
Secondly, women are reluctant to talk to their husbands about menstruation and their needs. Two members from the eight percent of respondents happened to use cloth. The Poddar brothers and co-founders of EdutopUp, Rahul Rungta and Ankit Bhardwaj, talked at length to the two women and found they earned very little and had no control over their earnings. They handed over their money to their husbands. The cooperative decided to give them free sanitary pads.
Marketing strategies have evolved over time. Initially, SHG members would go house-to-house to sell the Haq sanitary pads. Now village organizations and cluster-level federations advertise and market the napkins.
"We are not saying we will compete with sanitary pad manufacturers like Stayfree or Whisper. Our aim is to use village organizations and cluster federations as platforms to market our product," says Piyush.
Bookletpedia's booklet on gender and menstruation comes in handy. "In the Haq project we have used our booklet to make women understand the linkage between gender and menstruation. Women know that talking about menstruation is considered taboo in their families. But they never linked it to patriarchal norms," Piyush explains.
"The booklet has been used also to bust myths around menstruation and discuss menstrual health management. In every session, the team emphasizes the benefits of using a sanitary pad and makes it normal to talk about hygiene during menstruation."
The high social capital that SHG cadres have with the community helps a lot in creating trust in the product, he says. With the government and NGOs supporting the cooperative and the SHGs, women are coming round to spending `5 more on their menstrual health and hygiene.
The Haq project hopes to collaborate with the Bihar government's Education Department to instal sanitary pad vending machines in government schools and replicate the Sachhi Saheli model in other parts of Bihar.
The venture's sustainability depends on funds from the government and whether this collaborative effort can create leadership within the cooperative, an effective alliance between the government and the cooperative, as well as improve the skillsets of cooperative members, explains Piyush.
"Our USP is that we design booklets that make use of local characters in simple language. We try to iron out issues like policies, government schemes and social issues," says Piyush. He cites the example of a MGNREGA booklet designed for the Rajasthan Mahila Kalyan Mandal in Ajmer that, coupled with capacity building, helped the organization reach 3,973 households between September 2020 and March 2022 in Silora and Jawaja blocks of Ajmer and empowered them to access benefits under the scheme.