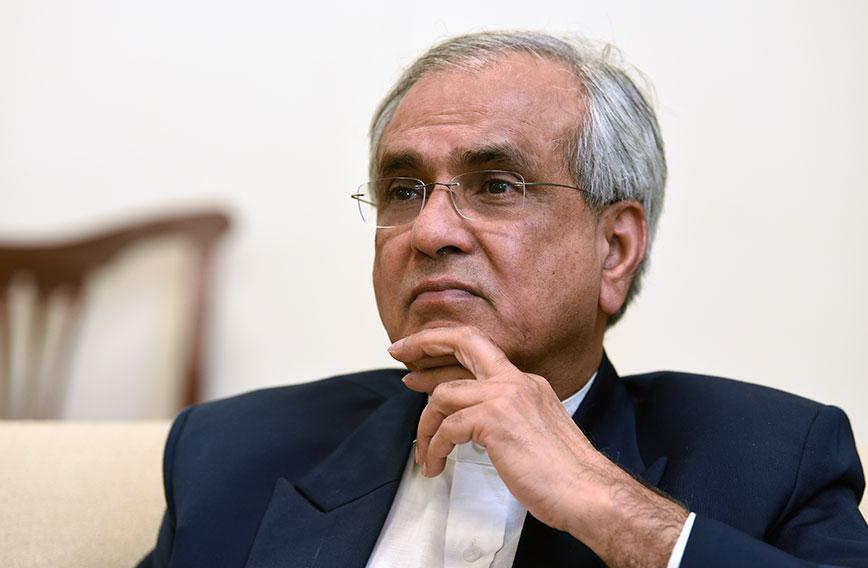 Rajiv Kumar: 'We can honestly become a major instrument for change in governance'
'India is 29 countries. We will be working with each state'
Civil Society News, New Delhi
Close to three years after it came into existence, the Niti Aayog, whose mandate is to prepare a vision for the transformation of India, has had a change of guard with Dr Rajiv Kumar taking over as Vice-Chairman in September.
Dr Kumar is an economist and has vast experience in working for government, industry and think-tanks. His appointment is interesting because he replaces Dr Arvind Panagariya, who was brought from Columbia University specifically for the job but came in for sharp criticism for being too pro-industry and unfamiliar with Indian realities.
Groups like the Swadeshi Jagran Manch within the Sangh Parivar had made it clear to the Prime Minister that they didn't want Dr Panagariya in such a key role. (See Civil Society July 2017.)
Dr Kumar is an amiable man with a moderate manner. He is pro-reform, but attuned to domestic concerns. He seems better suited to striking a balance on development issues where cautious and inclusive reforms are likely to work better than extreme positions in carrying different sections of the economy along. He is keen to promote a federal approach to development and says the Niti Aayog will work with the states to meet their chosen goals.
With characteristic earnestness, Dr Kumar has plunged into his new role, meeting different interest groups and shaping long-term consensus. Civil Society spent time with him to understand Niti Aayog's roadmap on issues from malnutrition to agriculture to unemployment.
What is the mandate of the Niti Aayog? People are a little confused.
First, the Niti Aayog is not a successor to the Planning Commission. It takes nothing from its predecessor nor does it emulate it. Unfortunately, the principal function of the former Planning Commission had become devolution of non-tax resources — the so-called development grants to the states under 300-odd centrally sponsored schemes. That function had made it a donor of sorts and, therefore, overtaken all its other functions.
But after the 14th Finance Commission increased the tax devolution from 31 to 42 percent, that function is simply gone. So the government wound up most of the schemes. Only 38 schemes are left. The chief ministers decide which ones they would like to have. There are 28 central schemes. The line ministries give the money for those.
There is no continuity here. It's a clean break.
Exactly how. What does the Niti Aayog plan to do?
The Niti Aayog encapsulates Prime Minister Narendra Modi's vision which is born out of his long experience as chief minister — that the central government and state governments have to be equal partners in India's development. The Niti Aayog is an instrument for achieving that. The governing council of the Niti Aayog consists of all the chief ministers and lieutenant-governors along with cabinet ministers and
so on.
Our emphasis is on cooperative federalism and competitive federalism. We want to bring all the states on the same page by engaging with them on schemes and policies. We take their views and help in framing those schemes and policies. We do that very actively. Ideally, we would like to work with state governments to design state-specific development agendas. We know that one size does not fit all. India is 29 countries. Each is at a different stage of development. So, we would like to work with each state.
Therefore, we have sector verticals in the Niti Aayog. Each adviser is linked to some states. For example, my commitment is that in the first 100 days I will visit all state capitals to say that the Niti Aayog is your partner and we can help design a state-specific agenda for you. I have already visited four state capitals in the Northeast, Lucknow, Raipur, Jammu & Kashmir, Dehradun….
The idea behind competitive federalism, on the other hand, is to switch from competitive populism to competitive good governance. You do that by creating a sort of competition between states. A lot of work was done before I joined in creating composite indices across sectors. What are states doing in terms of access and quality of education? What are they doing to manage their district hospitals? Or on water conservation?
We will create as many sectoral rankings as possible, apart from the ease of doing business which has been done. For the first time, you had all states on board across 98 variables and that was the input. Now we have done the perception survey which was carried out by the IDFC Institute. That's the big mandate.
The other mandate for the Niti Aayog is to act as a funnel for ideas from all stakeholders in the country.
To envision the future?
Yes, and also in finding solutions to our current problems. The Prime Minister has been emphatic on this. He said: 'Look, I don't want to know what. I want to know how.' And that can only come from very granular instances.
We can only know the pain points by engaging with people. We have already held as many as 30 to 35 meetings with outside experts in each vertical. I have held seven big stakeholder meetings across think-tanks, scientific innovators, farmers, CEOs of manufacturing and services, labour unions and development partners or NGOs. We want to pick up ideas, filter and put them in the system.
But we aren't only keyboarding ideas. We are an action tank. We monitor implementation on outcome- and performance-based criteria. We help to implement wherever needed. We have a development monitoring and evaluation office which is acquiring the capability of real time monitoring of schemes and projects by putting them up on a portal that's accessible to everyone.
Everyone who is implementing a particular scheme can plug in and that's reviewed. We can inform the PM in real time on, say, how many villages have been electrified. He gets data on a
daily basis.
We can honestly become a major instrument for change in governance. So I am thrilled with this role of the Niti Aayog. People tell me you lost the financials, so you lost power. No. The power of coming up with a hegemonic idea and turning around the public domain is much, much bigger.
There is GDP growth and there is inequality. We know that higher GDP does not address inequality. How do you make the Niti Aayog more inclusive?
To me the key is to improve the delivery of public services. And that happens through outcome-based monitoring and competitive good governance. The government has failed in its duty, so far, to ensure that growth is equitably distributed. For that to happen the share of public goods in the consumption basket of the poor has to increase, not only for the middle class. What has happened is that the elite completely abdicated their responsibilities. The government encouraged us in the past by finding private solutions to all public problems. That cannot be the basis of inclusive or sustainable growth.
So it's a kind of secession?
Yes. That's the only reason private security providers are the fastest growing industry in this country. The state is supposed to have a monopoly on violence to protect its citizens from illegal violence. That is the first fundamental basic principle of the government under any social contract, Rousseau downwards.
People tell me the PM promised maximum governance, minimum government and now you are increasing the size of the government. But the size of the government is very small, smaller than it should be in many places — policemen, nurses in public hospitals, teachers in public schools, why should schooling at primary and secondary level completely break down? It has broken down and been replaced by quota and `40,000 crore worth
of tuition.
So that to me is key for inclusion. I really appreciate the PM's commitment to inclusion because he has seen this. Therefore, you got the Jan Dhan Yojana, insurance policies and so on.
The key is to improve delivery of public services, plug the leaks and target beneficiaries. You have to make sure the state delivers and does not become a predatory state. You have to be a development state.
The predatory state devours its own, the soft state permits, connives and lives with systemic corruption and there is the development state which is East Asia — Korea, Japan, Taiwan, China. If we can get there 10 percent growth is very simply achievable, along with employment.
There is a huge lag?
But there are other specific policies I have suggested like replacing capital subsidies with labour subsidies. You keep giving capital subsidies for solar generation, for textile modernisation. Instead, make labour cheaper to help exports prosper. Inclusion will be born out of shifting policy goals from maximising growth to maximising employment.
How exactly does the Niti Aayog plan to increase employment?
All our exports, except for petroleum, are labour-intensive and employment-intensive — light engineering, garments, leather, gems and jewellery, diamonds. So we need to reorient our policies towards exports and request the RBI to ensure the rupee isn't over-valued. I have set up a task force for expanding employment and exports.
Second, agricultural backwardness must be addressed. Forty-eight percent of our workforce is trapped there, producing 14 percent of the GDP. No, I am not going to throw people out of agriculture. Instead, I will modernise our agriculture, just as Mother Dairy has done. I will bring in economies of scale and involve farmers. I will produce value as Amul has done for agricultural production. I will maybe shift away from land-intensive crops to more labour-intensive and value-added crops whether it is horticulture, vegetables, fisheries or dairy and encourage processing to prevent 28 percent of agricultural produce from being wasted. We will help set up the entire logistic chain.
Third, there is huge employment potential in the services sector. India can become a hub for education and health for our neighbours, for Africa. We spend billions sending children abroad to study. It should be the reverse. But for that you need a revolution in improving teaching, curriculum and education.
Thirty-eight percent of children are stunted today. That's where states need to be more active and create the jobs that are required to address that and to help anaemic mothers.
Therefore, the Niti Aayog has come out, for the first time, I think, with a nutrition strategy for India. We will start ranking states on nourishment of children and we will monitor mother and child health. Ranking, monitoring performance and outcome is better than trying to monitor inputs like how much money was spent. I don't want to know how many midwives or anganwadi workers were appointed but I would like to know what the state has done to improve malnutrition statistics. The employment potential in tackling health issues
is incredible.
Tourism is a big employment generator. We get only seven million tourists. Paris receives 50 million and China 25 million. These are the steps we will take to generate employment. It's already happening and gathering pace.
Do you see a specific role for the voluntary sector?
I see a very active role for them. At a meeting we decided to change their nomenclature from non-government organisations — which has a negative connotation implying I am not government — to development partner organisations
We see a role for them in third party monitoring and certification as in the case of the Pradhan Mantri Gram Sadak Yojana. There are three levels of certifying and the third was through civil society. They can be real partners in doing a people-centric regulatory framework and become a crucial part of our feedback mechanism. If the Niti Aayog is about monitoring performance and so on, we should be reaching out to them much more actively on a day-to-day basis.
But a large part of such work would be at state level. The Niti Aayog's role is more to nudge state governments to get there and that's not easy. There is a lack of trust within our society and that is our biggest Achilles' heel. If the government doesn't trust development partners, and industry doesn't trust government and neither trusts civil society organisations …. We have to get everyone to come on the same page of national interest.
There is concern about the state of primary health centres (PHCs), district hospitals and public health systems on the whole. What can the Niti Aayog do?
These are all state subjects. Our role is limited. But what we have done recently is to begin to create ranking for the performance of 736 district hospitals in the country. We are getting an expert to give us all 18-20 variables — process, patient treatment, finances, cleanliness and so on. All of that is being listed and weighted to come up with a composite index so we can rank those 736 district hospitals. It's the first big thing we will do. This can be extended to the PHC level by the states but we want to first set up a model. You can set up similar rankings for water supply, drinking water, coverage and so on.
There has been a tendency to opt for privatisation of public health facilities and hand over, say, PHCs to private players. In a sense the Niti Aayog sets a tone, an agenda. Do you think public health care needs to be with the private sector?
Are you interested in the outcome or the modalities? My point is, you have to define your outcomes well. Supposing your outcome is that 20 procedures or diseases of the entire population will be taken care of free of cost. That's your outcome. You achieve it whichever way you like. If you don't, then you should be criticised. You will be ranked.
Now, if one state decides to achieve this through a well-operated public health system like Kerala, God bless them, but if another state decides its public health system is so dilapidated that it wants to revive it with a private sector partner like, say, Apollo, then that is the state's decision. The state can set targets and outcomes.
One size won't fit all. You will not get 99 percent literacy in Bihar which you will get in Kerala that has higher civic consciousness. Why create rigid ideologies and stands? Hold them accountable for outcomes.
How does the government plan to double the income of farmers?
By changing agriculture to a modern science and technology-based agriculture which captures the entire value chain for the benefit of the farmer's income and de-risks the farmer from the vagaries of his very small land holdings. I am setting up 10 pilot projects and we will show how to double farmers' income. Give me 18 months. There is no way of doubling farmers' income by MSPs. You have to improve productivity, reduce wastage,
use technology.
It's the same methodology Mother Dairy used. There is a 10-fold increase in the incomes of their dairy farmers.
On the RUTF (Ready-to-Use Therapeutic Food)controversy, what is the Niti Aayog's stand?
We have not succumbed at all. We have, in fact, made sure all objections were taken on board. We worked with Dr Vinod Paul, a very conscientious doctor from AIIMS. Rest assured it will not happen. But there is the other extreme. If there are 10 percent cases of absolutely acute malnutrition of kids who might not survive, please don't insist on giving them barley and millets. If RUTF can help them at that stage, then don't prevent us from giving it to them. Monitor it. Don't make it the norm. As for hot mid-day meals, that will continue and will, in fact, be improved.