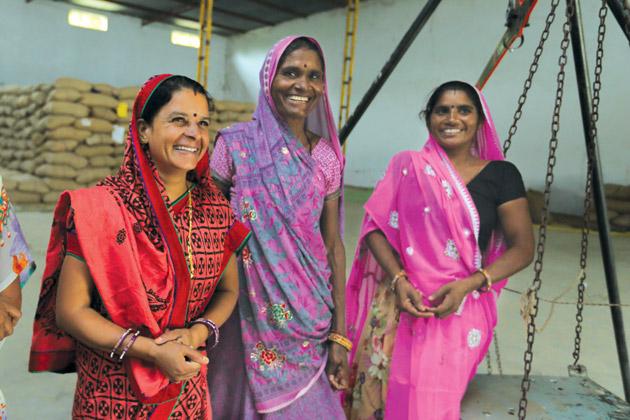 The Soya Project: Savitri, Prem and Manni of the Samriddhi Mahila Crop Producers' Company in their warehouse in Bundi
THE SOYA PROJECT: Farm evangelists
In 2008, two earnest young men set out to boost soya bean yields in the semi-arid region of Bundi in Rajasthan. Rainfall there is meagre and the soil lacks nutrients. But there are ready buyers for soya bean and the farmers were already growing it in small quantities among their other crops. Bumping up production held out the prospect of soya bean being the driver of better incomes in the villages of Bundi district infamous for bonded labour and poverty.
Neither Padam Jain, 38, nor Himanshu Bais, 32, had extensive knowledge of scientific agricultural practices. Well-informed opinion was also against their mission. But they plunged in and six years later they are heroes to thousands of famers who have experienced a social and economic transformation.
Soya bean yields have galloped thanks to 14 agricultural best practices put together by Himanshu and Padam. Women farmers have set up a producer company of which they are the only shareholders. The company has a licence to buy grains directly from farmers and sell them further. It runs a store and provides seeds and inputs at fair prices. A warehouse makes arbitrage possible – when prices are down grains can be stocked and sold later. There is also access to bank finance.
Padam and Himanshu work for SRIJAN or Self-Reliant Initiatives through Joint Action, which is based in New Delhi. The changes they have brought about have upturned old equations in Bundi district. The unfair terms on which farmers were compelled to sell their produce to the APMC (Agricultural Produce Marketing Committee) traders at the Bundi wholesale market have also ended.
Much of the credit for the initiative's success belongs to the women farmers. They seized the opportunity to empower themselves. They now have a greater say in their families and cut into the ...