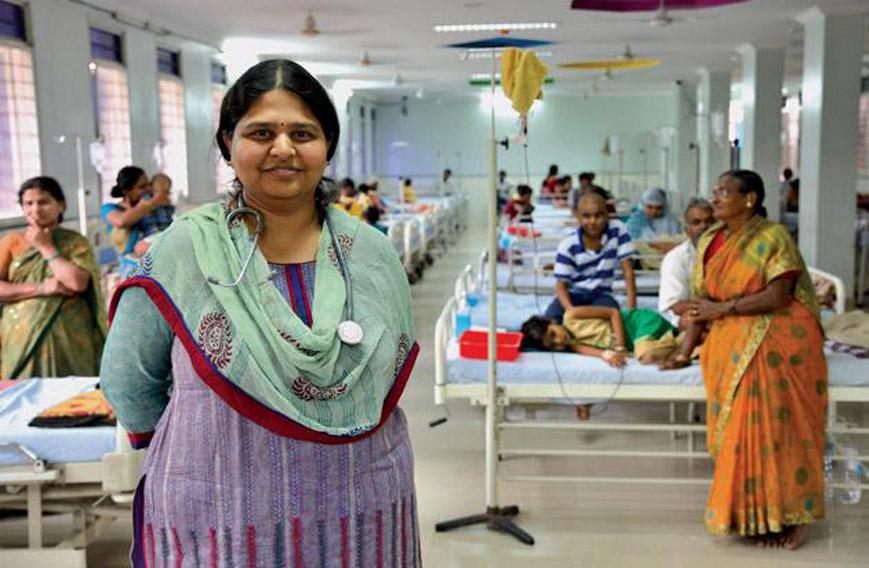 Dr Sudha Sinha in the children's cancer ward
Caring oncologist
The MNJ Cancer Hospital at Red Hills in Hyderabad has a good reputation as a government facility. But till six years ago it had no clue as to what to do with the number of children brought to it for admission. The hospital was only for adult patients and the children would be sent to the Niloufer Children's Hospital next door though it didn't have the specialists or infrastructure to treat cancer cases.
Things changed in 2008 when Dr Sudha Sinha joined here. A medical oncologist, she had spent several years in the US. Back in Hyderabad in 2005 she had first worked in a private hospital and then in 2006 opted for government service to have a bigger impact.
Dr Sinha wasn't a specialist in children's cancers, but since there wasn't such a specialist at MNJ Hospital, she would attend to the children in addition to her adult patients. The problem was that the children could not be admitted and she had no means of knowing how they were responding to the treatment. They would go to the Niloufer Children's Hospital and that was the last she would know of them.
A time came when she had to take care of 13 children and she wondered how to treat them over a long period. Dr Sinha had to act. She pitched with the director of MNJ Hospital for a ward with 13 beds. In a fortuitous turn of events, the ward became a reality. Today it has grown to 40 beds, and is perhaps the only one of its kind in the country. It is indeed a great example of how public health infrastructure can be expanded.
"In oncology in the developed world cancer in children is a major success story," says Dr Sinha. "The latest data we have ...