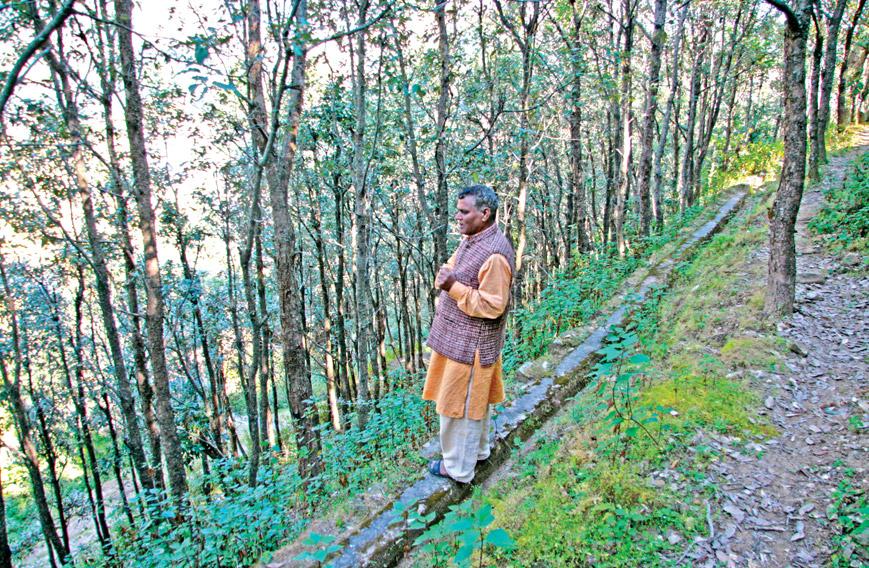 Sachidanand Bharati in Ufrainkhal's dense and moisture rich forest
The people's forester
When forest fires ravaged the hills of Uttarakhand one vast stretch went unscathed. This is Ufrainkhal where communities have grown local species of trees, sculpted traditional water bodies and revived a rivulet.
Ufrainkhal's forests are dense with the majestic silver oak and wispy khair trees with deep roots that trap water. The ground below the canopy of trees is thick with humus, the hillsides dotted with small water bodies called chaals.
"Ufrainkhal's damp forests and broad-leaved trees aren't vulnerable to fire," says Sachidanand Bharati. He has been the driving force behind the community effort that has combined traditional water sources with trees to make hillsides sustainable.
All over Uttarakhand, pine and eucalyptus trees are planted because those species are commercially valuable. But they impinge on groundwater and do nothing for the village economy. The forest department owns almost all the forests in the state and grows pine widely.
"In Uttarakhand, people don't feel connected to forests anymore. They think its the duty of the forest department. If there is a fire they don't rush in to stamp it out," says Bharati.
Bharati and his small group, the Doodhatali Lok Vikas Sansthan, began galvanising villagers in Ufrainkhal in Pauri Garhwal district 35 years ago.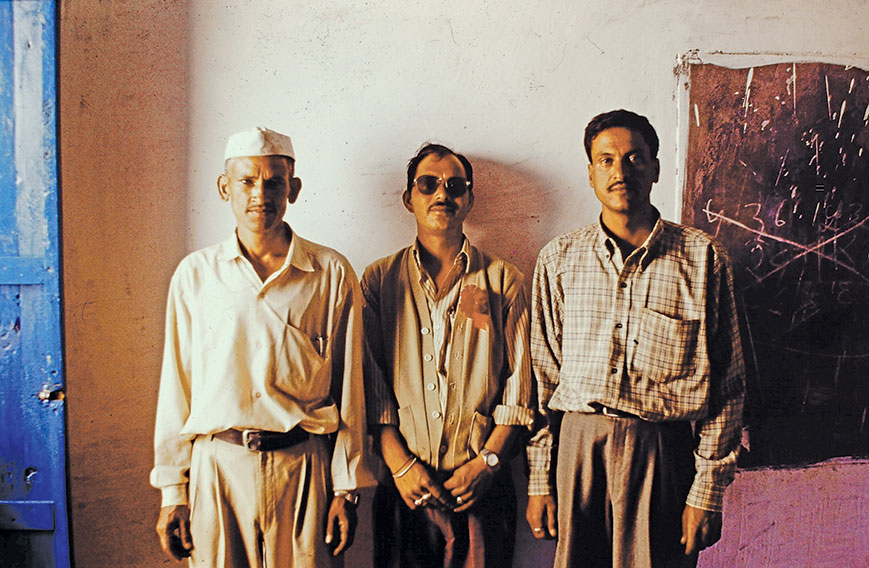 Devi Dayal, Dinesh and Vikram Singh: the postman, the Ayurveda doctor and the shopkeeper who have campaigned with Bharati
His three spirited comrades who played a lead role in this turnaround are Devi Dayal, a postman, Dinesh, an Ayurvedic practitioner and Vikram Singh, a grocery shop owner.
Bharati teaches in the Ufrainkhal Inter College. In 1982 he returned to Ufrainkhal from Chamoli district after taking part in the Chipko (hug the trees) movement. To prevent their trees from being cut by a contractor anointed by the government, Chamoli's women hugged them. The movement ...