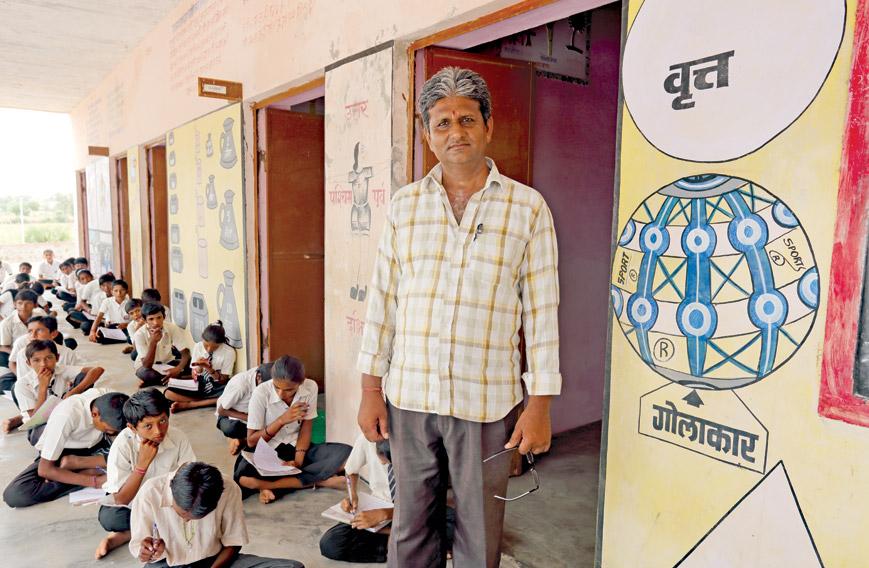 Gautam Sharma at the government school he transformed at Bool Gaon in Barmer district
The master headmaster
Umesh Anand and Photographer Ajit Kirshna
Bool Gaon is the kind of place you cannot get to easily. Even Google doesn't lead you there. Its 1,200 residents are so accustomed to their remote life in the midst of the desert that they don't expect visitors.
But distant as they are, and much beyond their own expectations, the residents of Bool Gaon now have an address that puts them on the map — it is the government upper primary school.
Recently, the school was adjudged the best among other schools in its category in Rajasthan's Barmer district. There is a certificate to show for this distinction. But much more important is the transformation that the school itself has gone through in the past six years. Such is its reputation now that Bool Gaon's children no longer 20 kilometres every day to a private school. In fact children from other villages come to Bool Gaon.
The upswing at Bool Gaon's school began when Gautam Sharma arrived as headmaster in 2010. Sharma, 48, had been around a bit in the government school system. He had been a successful headmaster elsewhere and he had a nodal function in the Sarva Shiksha Abhiyan. He has just been transferred again, but the success of the Bool Gaon school is the result of efforts he led.
Sharma came with lots of experience and a worldview that contrasted sharply with Bool Gaon's own seclusion. A man of few words, he is at heart an organiser. He quickly got down to work by talking to influential residents of the village and activating the School Management Committee.
"I told them together we could do a lot for the school. I immediately identified the need for a new building for the classrooms, which till then were just two cramped rooms. We ...