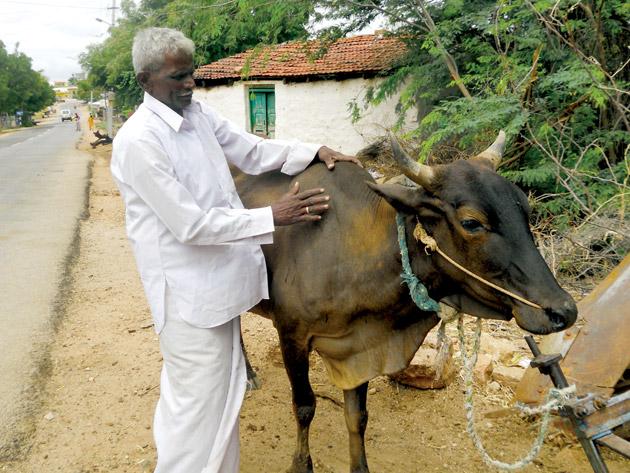 Shree Padre
A small green home in the sleepy village of Golla never sleeps. Harried villagers come knocking on this poor man's door, often in the dead of the night. Their animal is very sick, they tell Boya Pedda Rajanna as he lets them in. Your healing touch is needed, they plead. Rajanna, Golla's barefoot veterinarian for 30 years, never lets them down. He disappears into the dark, torch in hand, to reach the suffering animal.
The midnight knock does raise the hackles of Rajanna's wife, Lakshmakka. She knows it is a distress call. Somebody's cow or buffalo is seriously ill. But her husband wakes up readily. Sometimes he returns alone at sunrise or a day later.
Golla is 47 km from Anantapur district in Andhra Pradesh. Although this village has a government veterinary clinic with a qualified vet since decades, it is Rajanna whom the villagers turn to. "Why should we go there when Rajanna cures any ailment our animals suffer from?" retorts an old man from a crowd that has gathered outside Rajanna's home.
Identified by the Honeybee Network, Rajanna was honoured by the National Innovation Foundation (NIF) for his unstinting services this year. In March, former President of India, Pratibha Patil presented him the award at Rashtrapati Bhavan. Rajanna also holds a patent for his cure for mastitis, an illness that attacks the udder of animals.
Rajanna's amazing knowledge of animal medicine is hereditary. His grandfather, B. Narasayya, was a traditional veterinarian and passed his knowledge to his son, B. Madappa, who then trained Rajanna by taking him on his rounds.
He dropped out of school in Class 3. But he can read, write and sign papers. To differentiate him from his younger brother, who was also named Rajanna, his parents added Pedda to his name. In Telugu, Pedda means elder.
Rajanna treats a range ...