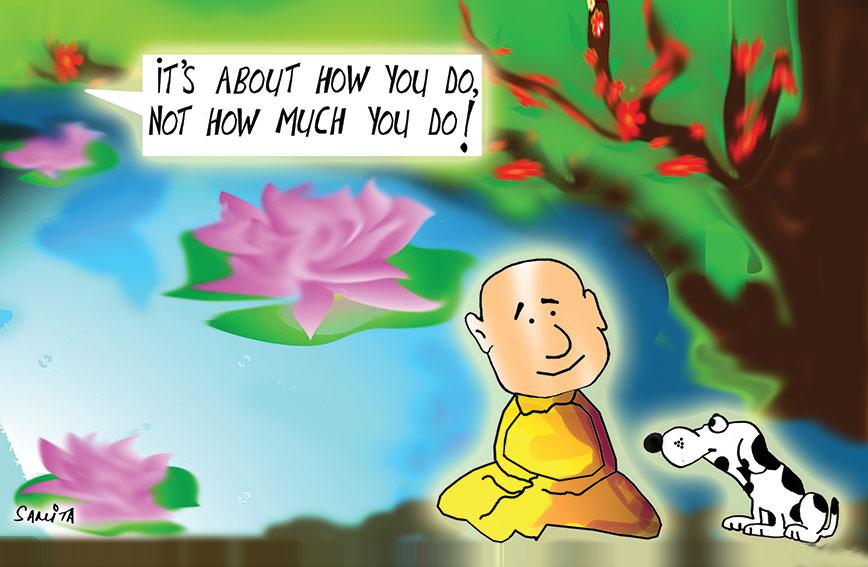 Small is big and beautiful
Rita & Umesh Anand
The reportage of our magazine has been focused on finding those seemingly small stories with big implications. We look out for innovators who could be changing the way we live and think. In a backyard or basement somewhere there are ideas being pursued which deserve national attention. We like to be the frontrunners in making that connection.
It is 14 years since we began publishing Civil Society and we continue to surprise ourselves with what we can go out and find for our readers each month. There are people solving problems and bringing change in healthcare, water, education, transportation, garbage, housing, organic food and more.
Not all of them are NGOs and activists. Some are farmers, others are doctors and lawyers. There are entrepreneurs with new-age business ideas. You will find management types who have pulled out of jobs early. There is also the odd corporation putting new meaning into corporate social responsibility.
Given the size and complexity of India, these are at best small efforts. Some are rural, some urban. But they each come with special meaning in their successes and failures. The challenge is in finding ways to decode what they are doing and share that learning with others who can use it.
From our experience, we have found that most serious social initiatives are focused and fervently local. So caught up with their ideas are the innovators that scalability and money are often the last things on their mind.
The Civil Society Hall of Fame was started eight years ago in association with the Azim Premji Foundation to build on what we were trying to do as journalists. Telling the stories was okay, but how about celebrating the innovators so that their remarkable lives and contribution to the country's development could become aspirational beyond the pages of a magazine.
Post-reforms India is a freefalling place. There is just too much going on to get a fix on anything. Technologies like the Internet and the mobile phone add to the distributed feeling of being in a kaleidoscope of floating pieces. In such circumstances, the Civil Society Hall of Fame tries to offer a standard we could aspire to.
Despite the social contribution that entrants to the Civil Society Hall of Fame make, their work would normally go unnoticed or at best be remotely understood. By celebrating them in our magazine and then at an event in a big Indian city, we try in our own way to set that anomaly right. We bring them to the India that doesn't know they exist. Perhaps their ideas will influence governments and find their way into policies. Maybe universities will bring them into their fold. At the very least, we would be happy if entry to the Civil Society Hall of Fame encourages them to carry on with their work.
As happens every year, the Civil Society Hall of Fame process has taken us from one end of the country to another as we visit the people on the list of names that the jury chooses. From Rajasthan, we have Laxman Singh for his outstanding work on drought-proofing in the rain-starved village of Laporiya.
Laporiya has gone from extreme shortages to always having enough water. It is Laxman Singh who has brought about this change through harvesting whatever little rain the village receives. He has created the Chauka, which is a way of slowing down the flow of rainwater on the village's pastures. The result is water sinks into the ground instead of flowing away. There is also the right kind of grass for the village's animals. Increasing tree cover and having three water tanks has also helped.
Mohammed Gafur Chhipa is the headmaster of the government's upper primary school at Titri village in Rajsamand district of Rajasthan. With his dedication, Chhipa has transformed the infrastructure of the school and improved teaching. It is now a model school. He serves hot midday meals without any fuss and bother and has fitted an RO system so that the children get clean drinking water.
Dr M.N.R. Venugopal is the Pepper Doctor for farmers in Shimoga, Uttara Kannada, Chikmagalore, Hassan, Kodagu and Sirsi districts of Karnataka. A retired agricultural scientist, he has shown farmers how to boost pepper yields and thereby increase their income. He goes from farm to farm giving advice and charges nothing from small farmers. Dr Venugopal is an example of how scientists should collaborate with people on the land so that farm incomes can improve.
Ganesh Babu's contribution is in identifying and collecting rare plants, many of them medicinal, from all over the country. He has scoured forests far and wide and built a repository at the Foundation for Revitalisation of Local Health Traditions (FRLHT) in Bengaluru. He has also popularised the idea of raising urban herbal gardens and today Bengaluru has the most herbal gardens in the country.
Aziza Tyabji Hydari has been India's champion of auditory verbal therapy. In the eighties, she broke with convention to use the listen-and-speak method of teaching very young deaf children. The method was at that time new in the developed world. Thanks to her and others who work with her at her organisation, AURED, profoundly deaf children have a chance to speak and live normally.
As always, we owe a debt of gratitude to our many friends who sent in names for the Hall of Fame. And we especially thank the jury — Aruna Roy, Darshan Shankar, Vir Chopra, Dr D.P.S. Toor, Gautam Vohra and Harivansh — for their sincere effort in making a fair selection.