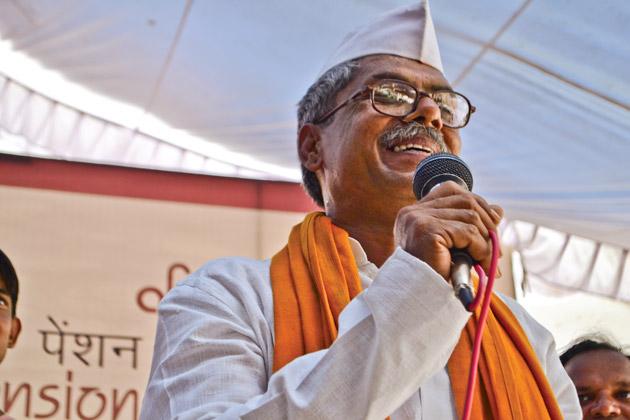 Shankar plays the neta at the Pension Parishad
SHANKAR SINGH: Rockstar at the grassroots
When the Ghotala Rath Yatra (Chariot of Scams) rolled out at the 53-day dharna demanding the right to information in Jaipur in 1997, it was a masterstroke in communication. Shankar Singh was the moving force behind this unique messaging. Dressed as a neta he stood on the chariot and irreverently acted the part of a mindless politician. What he said was funny but it was also tragically true. So was the song, 'Ghotalaraj ki jai jai bolo'. Its lyrics underlined the irony of representative politics, divorced from people and their realities.
Not far from the arc lights of the RTI (Right to Information) movement, Shankar has played a key role in communicating complex ideas at the grassroots. Seldom heard as a spokesperson and always seen as part of a group, Shankar is a rare talent. He is one of the most valued members of the Mazdoor Kisan Shakti Sangathan's (MKSS) core group.
Shankar was born in Lotiyana village in Ajmer district of Rajasthan. He is the only son of a patwari. His father died when he was around 10 years old. His mother toiled on public works as a daily wage labourer to pay off the debts her alcoholic husband had left behind as an unwelcome legacy. Her 1.5 bighas, barely yielded two months of grain. Shankar is a Rawat. The Rawats are an economically and socially backward community, but with strong egalitarian principles. Both Shankar and his mother have an innate sense of equality.
Noji Ya, as she is affectionately called now, really laid the foundation of Shankar's life. She decided to send him to school, at any cost. Shankar completed high school but employment became a serious concern.
Shankar changed 17 jobs. He worked on a poultry farm, sold tea, pakoras, vended kerosene, became a babu, a mate ...