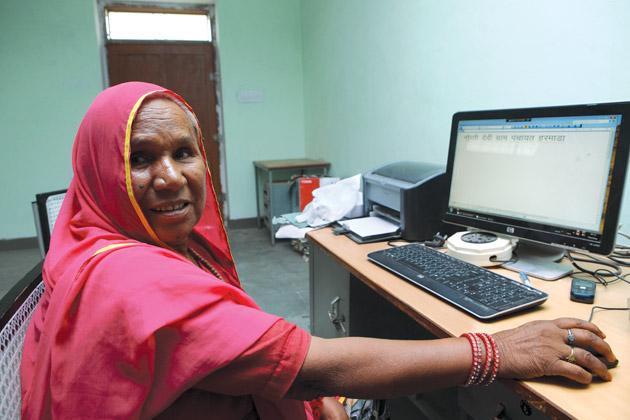 Sarpanch with raw courage
HARMADA is about half an hour's drive from the small town of Kishangarh, famous for its marble and the 18th century school of painting. Blocks of marble line both sides of the potholed road that leads to Harmada, a visibly derelict village, an island of poverty that sits plum in the middle of a sea of marble money.
Here, in this village, in Rajasthan, lives a remarkable woman – Naurti Bai – who has been fighting for the rights of women for over 30 years. The feisty Naurti, a Dalit from the Regar caste, is now the sarpanch, presiding over a village dominated by 400 upper caste Jat families.
Four kilometres away, far from the madding crowd, sits Naurti Bai in her spacious and newly built office. The room is bare with five big windows. A stack of durries is piled in the corner. There are two tables with computers, and a blackboard, with something about seeds and sowing methods scribbled across it in white chalk. The room can easily hold 50 to 80 people. The first thing Naurti Bai tells us is that the building was constructed in less than what was allocated in the budget. In the process, she saved more than a lakh of rupees for the village. Naurti might be a widow but she's dressed in colourful clothes, a sign of her independence. Today, she's wearing a pink sari with a gold border and a loose-flowing flowery petticoat; gold-coloured earrings add a glow to her face; her hands are adorned with simple patterns in black henna. In a soft, low voice, she begins telling her story.The day we arrive is also the day of the local fair. It's Janmashtami, and there is an air of raucous festivity. If you thought that the Indian village is a ...