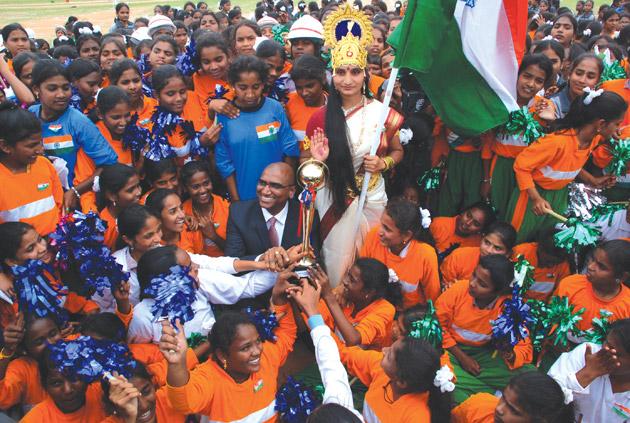 Praveen Kumar with his students
Officer on dream mission
It is as though a beam of sunlight has penetrated the darkened assembly hall when RS Praveen Kumar, 46, walks in. The 500 girls waiting for him to address them clap rhythmically to welcome a man who has become their inspiration, their hero. Punctuating his long strides, he stops at almost every row to shake hands with the girls. He radiates energy and hope. The atmosphere is electric.
The school in Hyderabad's Mahendra Hills at which we witness this amazing scene is one of the government-run Social Welfare Residential Schools in Telengana. It could have been just another government institution – dull, drab and directionless. But in the three years that Praveen Kumar has been Secretary of 138 Social Welfare Residential Schools, he has turbocharged the lives of the students and teachers. Everyone calls him 'Secretary Sir', but the goals he sets require going much beyond the formality of his position. It is his passion that invites affection and awe.
FROM POOR FAMILIES
Tens of thousands of children from poor families in marginalised communities get accommodation and an education in these schools, which were started as part of a social transformation initiative conceived of by PV Narasimha Rao in 1972. NT Rama Rao took it forward.
Praveen's own beginnings were very humble. He came from a poor family in a backward caste. His mother was a coolie who was rescued and given an education. She went on to become a teacher. His father too was a teacher. Education changed things for the family.
Praveen learnt the value of education early in life from his parents. He studied veterinary science before being inspired to take the civil services examination and join the Indian Police Service (IPS) in 1995.
He was a decorated IPS officer and he had done a Masters in ...