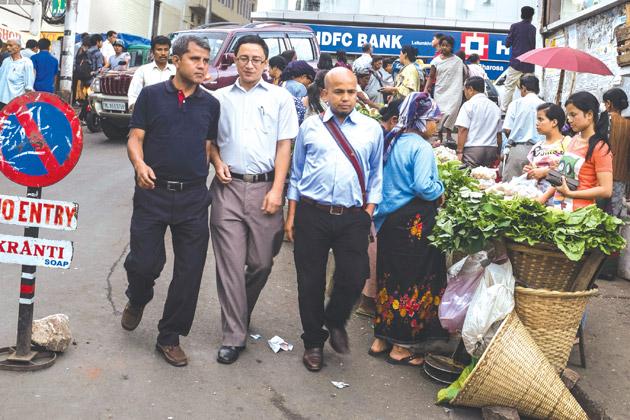 Rev. Kyrsoibor Pyrtuh, Rev. Zambolis Sawkmei and Rev. Moody Lyngkhoi walk down a street in Shillong
People's Pastors
Three pastors have set the Presbyterian Church in Meghalaya thinking about greater transparency in its decision-making and the importance of addressing the social concerns of the people.
Using the right to information (RTI) law, the pastors have had their Church annul an agreement with a private university and they have simultaneously put a spotlight on the unregulated higher education sector in Meghalaya.
Reverend Kyrsoibor Pyrtuh, 41, Reverend Zambolis M. Sawkmie, 41, and Reverend Moody Allan Wood Lyngkhoi, 42, are now actively involved in campaigning for accountability, transparency and people's rights in the northeast.
"The traditional conservative definition of a pastor is somebody who is confined to the four walls of the Church and to spiritual matters. But things have changed. I am professionally committed to the Church. But I can move beyond that and confront injustices in society. The Church needs to connect with larger society and subject itself to the same laws of accountability and transparency," says Rev. Pyrtuh.
Rev. Pyrtuh was ordained in 2005. A Bachelor of Divinity from Bishop's College, Kolkata, he is pastor of the Mawkhar Presbyterian Church, Shillong.
He is part of the Campaign for an Independent Lokayukta in the state. A founder-member of Thma U Rangli Juki (People's Upsurge), he has been at the forefront of protests against the grabbing of raij or common land and the displacement of traditional farmers to build a New Shillong Township.
Rev. Sawkmie is a Master of Theology in Biblical Studies. He began his career as a pastor in Lapmala in the Jaintia Hills. Later, he joined the John Roberts Theological Seminary as a teacher of the New Testament. He now works as a Translations Adviser at the Translations Centre of the Bible Society of India in Shillong.
Rev. Lyngkhoi is the artist in the group. He ...