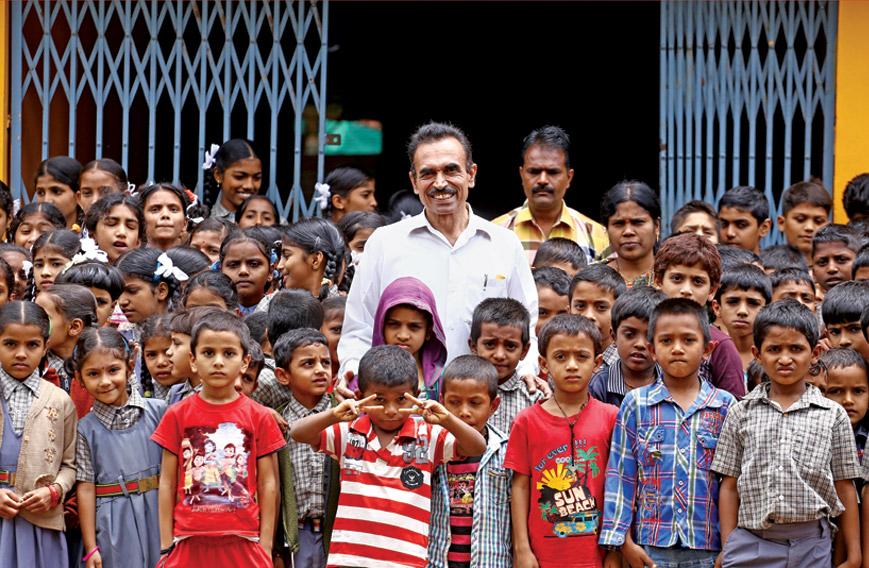 Honnesara Paniyajji Manjappa with students at the Vanashree school at Sagar
LIC agent builds lives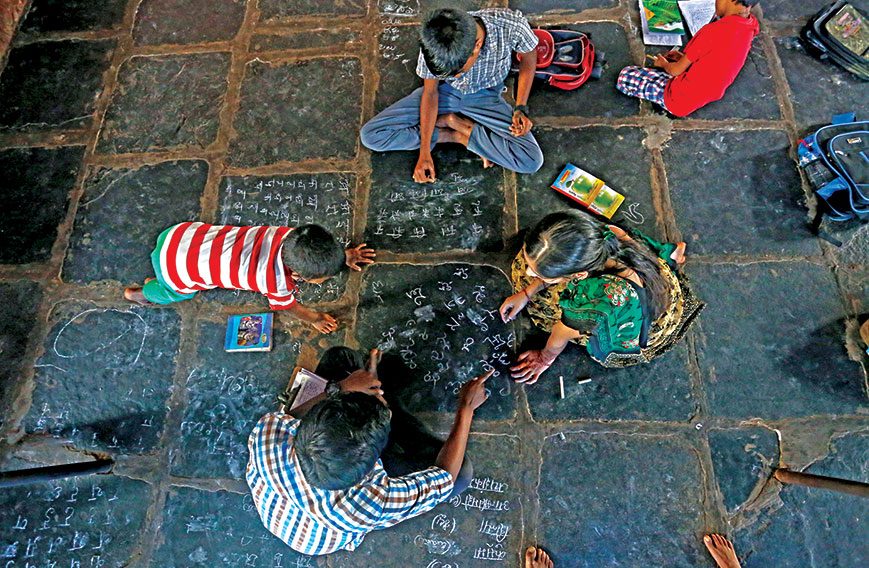 Dressed in spotless white Honnesara Paniyajji Manjappa smiles warmly at the children sitting behind a long narrow desk. The classroom is octagonal so that every child faces the teacher. No one can be a backbencher at the three Vanashree schools Manjappa runs in the Shimoga district of Karnataka.
The faces of the children reveal that they are from all over India. Mostly they are destitute children, rescued child labourers, juvenile delinquents, dropouts and children whom other schools turned away.
Vanashree throws its doors open to them. So far since 1990 about 3,000 students have gone through the Vanashree schools. Of them100 have got admitted into medical, engineering and professional colleges. Some are working abroad. Whenever they come to India, they visit the school that transformed their lives.
Currently, the three schools together have about 1,000 children enrolled. Of them 20 percent are from well-to-do homes and pay fees, which add up to Rs 15-20 lakh annually. Manjappa puts the commission he earns from selling policies of the Life Insurance Corporation (LIC) into meeting the costs of the schools. For the rest, he depends on donations.
All the children, regardless of which state they come from, learn Kannada and speak it fluently. "It isn't difficult to teach. The children learn in a year. Knowing the local language has many advantages. They can communicate with everyone. Otherwise, they would miss out a lot," says Manjappa.
Manju Naik is now an assistant engineer in Ambikanagar's Karnataka Power Corporation in the Uttara Kannada district of Karnataka. He has a home, a job, and a car. In 2002 Naik was a child labourer slaving at a coffee plantation in Chikmagalur. One day, Naik and 30 other children were dramatically rescued by Manjappa and brought to Vanashree.
Some of the boys ran ...