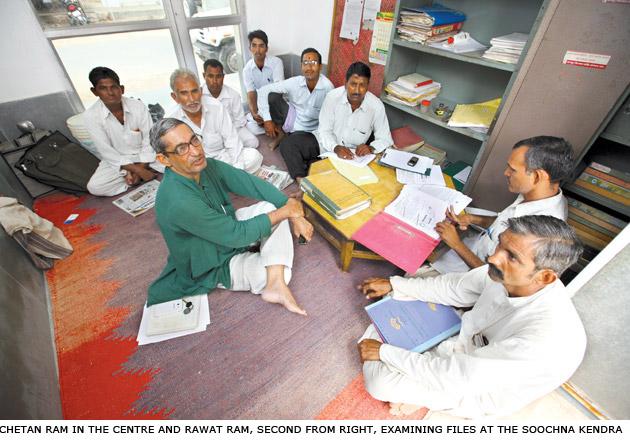 Umesh Anand, New Delhi
When the film star Dharmendra was elected to the Lok Sabha as a BJP candidate from the Bikaner seat in Rajasthan in 2004, his campaign speeches consisted of famous lines from his films. He had the constituency charmed. But he did nothing for five years and angry voters vowed never to let him enter Bikaner again!
Rawat Ram tells us the story with a slight laugh in his soft voice as we wait at the Nokha railway station for a train back to Delhi. He is a polite man, dressed simply and with very few needs. He makes no dramatic statements and yet he is every bit a hero – that too in real life.
From a tiny Soochna Kendra of the Jagruk Nagrik Manch in Nokha town, 60 km from Bikaner in the Thar desert, Rawat Ram helps people know about their rights and take on inefficiency and corruption in the government.
It is a challenging role that requires courage and persistence and diplomacy in no small measure. Rawat Ram is a natural at it.
The Soochna Kendra is the creation of the Urmul Jyoti Sansthan whose secretary Chetan Ram is an old warhorse of the right to information (RTI) movement. In the villages of the Nokha block, he has encouraged people to be 'jagruk nagrik' or aware citizens.
It was in this process that he met Rawat Ram, who decided to work full time with Urmul Jyoti and be mentored by Chetan Ram. ...