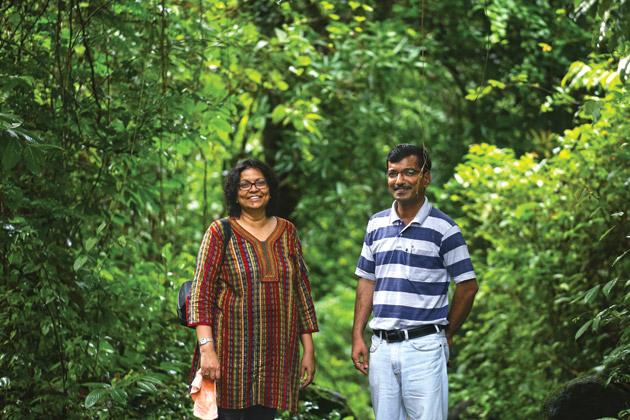 Archana Godbole and Jayant Sarnaik in one of their forests
Guardians of the Ghats
A narrow mud path begins under a sprawling banyan tree and takes us up rocky slopes thick with green cover. It is slippery underfoot because it has been raining and we have been told it would not be wise to go more than a short distance. The climb will be manageable, but the way down can be tough and messy, perhaps even dangerous. Being July, we are in the middle of the monsoon in the Western Ghats, one of the world's 34 biodiversity hotspots. As is to be expected, the fecund forests here are burgeoning with new life. The undergrowth is difficult to negotiate. And there are venomous snakes and other forms of wildlife to think about.
So we don't go too far in, but the periphery in itself is an important landmark. A solitary metal board dwarfed by magnificent greenery announces a unique effort in conservation. From here begin 800 acres of forests under the village of Umre where local dwellers have signed three separate conservation agreements not to cut trees for the next five years in return for financial compensation. Up ahead there are another 538 acres in the village of Kalambaste for which similar agreements been put in place.
The Applied Environment Research Foundation (AERF) is the driving force behind these two conservation agreements. The two parcels of forest are contiguous and connect with the buffer zone of the Sahyadri Tiger Reserve. A swathe of hillside in the Western Ghats has in this way, through agreements, been conserved as a habitat for rare trees, medicinal plants and wildlife.
The Western Ghats are mountains that run parallel to the entire west coast of peninsular India. The sea is not more than 30 km away. Multiple gene strains continue to thrive here though they are also getting decimated and ...