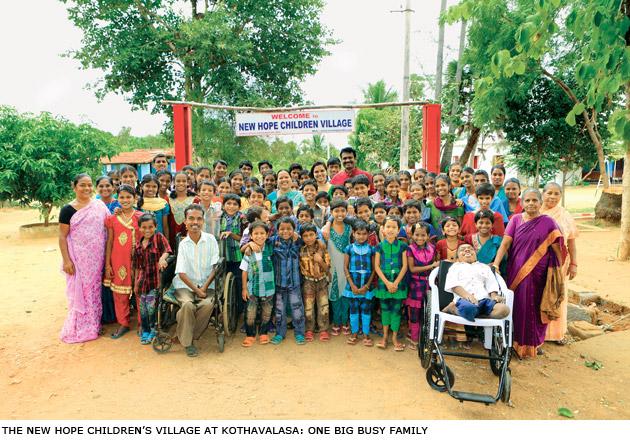 Business of smiles and hope
Umesh Anand
Nothing prepares you for the New Hope Children's Village. It is at Kothavalasa in the recesses of Andhra Pradesh's Vizianagaram district. Scruffy roads lead you there through dismal surroundings. There are no signboards, no grand statements, no intimations of any kind of what is in store.
The village itself begins unannounced: a cluster of single-floor structures on 13 acres without a significant gate or wall to seal them off. Entry is by turning off the road – just like that. But when a large number of children, their faces radiant with excitement, emerge almost from nowhere for a rousing welcome, it becomes quite clear that this is a place awash with special energy.
Since 2000, New Hope Children's Village at this location has been home to hundreds of children who have had nowhere to go. These have primarily been children whose parents have been afflicted by leprosy.
There are also children who don't have the stigma of leprosy to live down but have other troubled histories. They could have either strayed from home or been dumped somewhere or simply got lost on a railway platform.
At the New Hope Children's Village they find an extended family, get to go to school, wear clean clothes and are assured three wholesome meals a day. Life begins afresh for them. With education and skills, they find employment, get married, have children and generally move out of the margins.
The village is also home to destitute women, some of them HIV positive, who regain their confidence and health and discover a new existence by being mothers to the children. A nourishing emotional balance is thereby restored.
These are remarkable things to happen. But the specialness of the New Hope Children's Village is in its movie script like ...