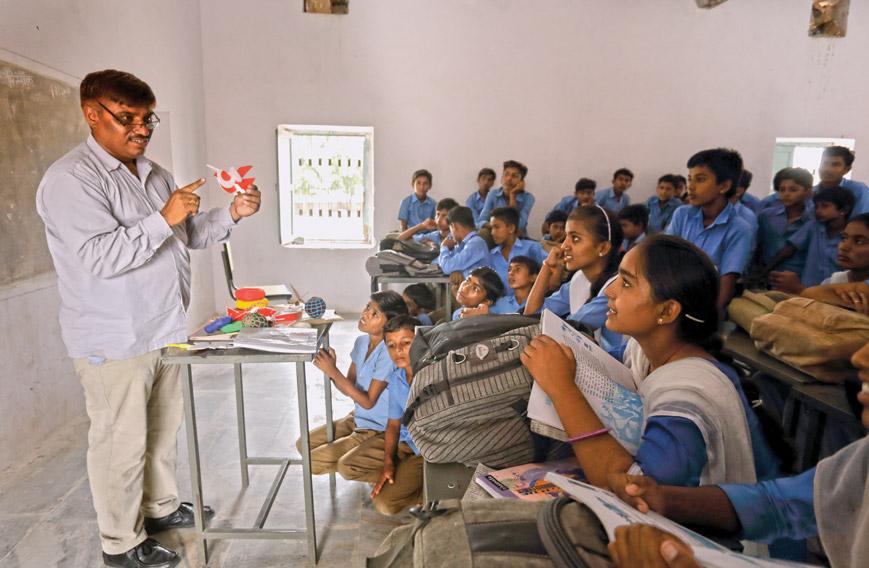 Ramesh Gharu has students enthralled
A teacher with toys
Umesh Anand and Photographer Ajit Kirshna
When Ramesh Gharu enters a classroom it is packed to capacity. There are students all over — behind their desks, standing at the back, on the floor in front. They are thrilled to be there and the excitement is visible on their faces. Eyes shining, they hold on to each word and try to outdo one another with answers, at times speaking together in noisy outbursts.
Gharu has the appeal of a rockstar. He knows to go live. He can make sparks fly. His personal energy gets a frenzy going. From start to finish, he sets the pace, regulating the highs and lows.
Using a variety of innovative teaching aids, which he has made himself, Gharu can in a single lesson go from maths to geography to language to elementary science to gender. It is a kaleidoscope of information and ideas.
The reputation of government-run schools is generally dismal. The infrastructure sucks. Teachers don't care and lack in abilities. Books aren't available. Children don't turn up and when they do it is questionable how much they actually learn.
Gharu has confronted this ailing system and turned it on its head. He has shown that even in the most bleak of circumstances teaching can be fun and learning a liberating experience. For the past 20 years in a government school at Siyani village in Barmer district of Rajasthan, close to the border with Pakistan, Gharu has built a great reputation for himself as a perceptive teacher and as a compassionate human being.
"For me teaching is all about involving children. Children finally teach themselves. As a teacher, I see my job as creating an environment in which a child can explore and experiment. What is language after all? The letters of the alphabet remain the ...