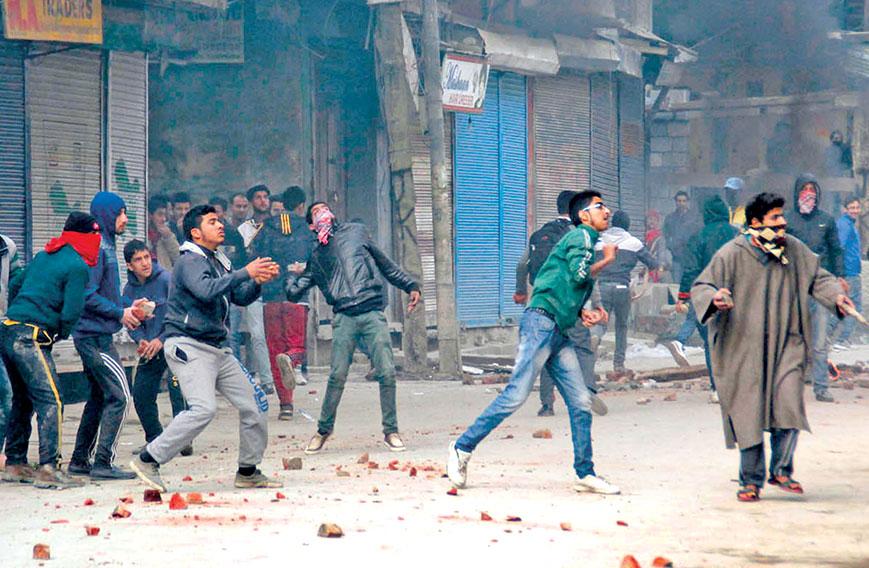 Professionals behind stone-pelting in Kashmir
Jehangir Rashid, Srinagar
Pelting of stones in the Kashmir Valley is not just widespread but increasingly becoming an organised activity with professional pelters apparently up for hire to lead the way and then leave innocent young agitators to face pellets and bullets when the security forces are compelled to respond to bring a situation under control.
Stone-pelting used to be a way for the young and hot-blooded to vent their anger against the security forces. After Friday prayers at the Jama Masjid at Nowhatta-Srinagar stones would routinely be thrown at the men of the Central Reserve Police Force (CRPF) on duty.
This stopped when curfew was imposed in Old Srinagar on Fridays. But with the death of Burhan Wani, there has been an escalation of hostilities. It is generally felt that stone-pelting has gone out of control with even some Hajis being stoned in north Kashmir.
"Stone-pelting is a way for us to convey our unhappiness with the government. If we pick up guns then we will be labelled terrorists. But it is a shame for the people at the top that the police and security forces are firing pellets and resorting to direct firing although we just pelt stones and not fire bullets," members of a group of stone-pelters told this correspondent.
During the summer agitation of 2010 separatist leader Syed Ali Shah Geelani had castigated the youth for resorting to stone-pelting. Geelani, after being released from jail, said that stone-pelting gives licence to the security forces to fire on innocent people.
But a stone-pelting group named the Kashmir Sangbaaz Force came down heavily on Geelani and said that the Kashmir issue had got new attention thanks to stone-pelting. Geelani was forced to modify his statement. He then said that stone-pelting is the only weapon available to Kashmiris in the present situation.
...