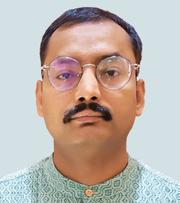 VENKATESH DUTTA
THE rain in September and October with unexpected, powerful cloudbursts, and the phasing out of the monsoon was unusual on many counts this year. The monsoon rain, which is usually spread over four months, was replaced with intense and short episodes of heavy downpour.
Scenes from the RBD layout on Sarjapur Road in Hoskote in Bengaluru and its surrounding areas reminded one of Venice. Dakshina Pinakini, a river that had long dried up and been forgotten by the city's residents, was suddenly inundated, flooding Channasandra main road near the IT Park. The majority of local inhabitants was taken to safety using rescue boats. There was no electricity for around 36 hours.The overflowing river threw traffic into disarray. Many housing and commercial structures had sprung up on the bed of this river, forgotten for nearly four decades.
Similar visuals came from Lucknow — several affluent colonies were flooded for hours, and many businesses and residences suffered losses due to waterlogging. Many settlements adjacent to the Gomti river were submerged.
There is definitely a change in rainfall pattern. Rain has undeniably become intense, the onset and phasing of the monsoon has become unpredictable, and flooding is taking a more severe form. After a lengthy dry period, nature reinstates the balance by flooding. This is natural. In order to restore the land and regulate ecosystem functions, a river must flood. The monsoon has been around for a very long time, around 15 million years. Then why are floods and flooding seen as bad?
When it rains a lot, our cities are unable to cope with the resulting floods. It's a breeze, really. You occupy the space of rivers and lakes, and the water occupies you. Even if you block the water and construct buildings above it, floodwaters will still find a way to inundate them. Green areas and lakes, and other open spaces, have been carelessly eliminated. Unrestrained and chaotic urban expansion has long been a feature of India's emerging cities. Every year we are losing wetlands and ponds with the ongoing expansion of cities, and the development of new urban centres on the periphery. When cities grow, they usually don't take into account how much water is lost within city limits and along their peri-urban zone, which might exacerbate flooding problems in future. This is due to human ignorance and failure to foresee how much a city can expand sustainably, within its carrying capacity.
In most cities, colonies have sprouted on khadar land on the banks of the river. We are ruthlessly encroaching upon ponds and lakes and altering the natural paths of rivers and streams. All the drainage, a natural way for the water to flow, has been closed. The water now goes wherever it finds it easier to flow.
Why should we only blame the climate for this? The problem is not the flood but the persistence of flood waters for a long time. In our plans to develop colonies, we have never given serious thought to the circularity of water — we have built wherever we wanted. In the process, we broke up the watershed and catchment areas of ​​ponds and rivers. And we have not learnt from our mistakes!
Between 1970 and 2010, Bengaluru lost 79 percent of its water bodies and its concrete cover increased 950 percent. Similarly, Lucknow lost 70 percent of its water bodies during the same period. Three decades ago, there were more than 1,000 in the urban area of Lucknow alone. Shopping malls, colonies and houses were built on the ponds. We built a riverfront by narrowing the Gomti river, and established a posh colony on the terrace of the river. Kukrail river, a tributary of the Gomti in Lucknow, is a drain today.
Dakshina Pinakini, a once perennial river, has now dried up in Bengaluru. Bellandur lake, Varthur lake, and other streams now contribute to the discharge of raw sewage into what remains of this river. In Pune too, the riverfront is expanding on the Mula-Mutha rivers. The same is the case with the Mithi river in Mumbai. The Varuna and Asi rivers are heavily encroached upon in Varanasi and are now reduced to drains. The East Kolkata Wetlands and the Rabindra Sarovar, two of Kolkata's most important water retention and drainage zones, are in trouble as a result of the city's unabated urban expansion.
Our emerging cities do not have adequate drainage infrastructure to deal with sudden, heavy downpours. Drains are frequently clogged due to excessive garbage, reducing the flow of sewage, and they are inadequate in size to handle the growing population. Sewerage infrastructure is overwhelmed during heavy rainstorms because of inadequate flood storage, a faulty sewage network, malfunctioning pumping stations, and general lack of maintenance. In developing most 'affluent cities' of the country, we took away the land of rivers, streams and ponds. We built colonies, apartments, and malls on the banks of rivers, which was reserved for nature. If we build concrete walls or embankments on the banks of rivers, the rivers cannot deposit silt on the adjacent floodplains. Gradually the riverbed rises and starts flowing above the land around it.
In just a few episodes of intense rain, clouds of trouble start hovering over our cities and towns. Water starts filling in populated areas and, on the other hand, it does not reach ponds and lakes. When we block the routes of rivers, then during floods they will decide their own paths as soon as they get a chance.
Lakes and ponds serve as a buffer to store surplus rainwater. Many drains and water bodies were filled up to make highways and roads. The highways and elevated roads serve as a dam for rainwater, preventing the water flowing down. The tendency of town planners to avoid culverts while making highways intensifies the severity of flooding: rainwater is forced to build up, which results in a deluge.
Each community or colony can help prevent flooding by directing all stormwater into a nearby water body or natural drain. Natural drainage must be protected and restored. In places like parking lots, pathways, walking and jogging tracks, permeable ground should be developed instead of solid concrete. If we do not correct ourselves, future floods will remind us — even harder.
Venkatesh Dutta is a Gomti River Waterkeeper and a professor of environmental sciences at Ambedkar University, Lucknow