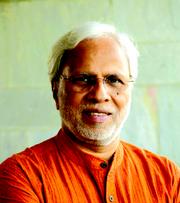 DILEEP RANJEKAR
It is high time we stopped compartmentalising education. Even at the government level, we need to view education as a continuum. I fully recognise that each stage of education has different needs, nuances and different issues associated with it and we must focus on those needs to successfully meet them.
Education has been rightly categorised into pre-school, primary (within that lower and higher primary), secondary and tertiary education. However, these distinct parts must be viewed together as integrally linked with one another. Illustratively, the quality and equity issues at pre-school affect the child's development at primary education level — which in turn affects the quality at subsequent stages. One of the reasons we find many teachers lacking subject matter expertise is the kind of school education they themselves received. And because teacher education is currently in a poor state, the quality of school education in turn gets adversely affected.
STEPPING STONE
Practically all educationists and child development experts across the world accept that four to eight years of age is extremely critical for the overall and especially the psychological development of the child. In fact, many argue that if we take care of a lot of basic needs of the child during this stage, many subsequent "development-related problems" can be prevented. One molecular biologist once rebuked me, saying we are ignoring this important stage of the child's life and trying to "repair" the problems subsequently in school education — which is completely unproductive. In principle I agreed with him. He was advocating better nutritional supplements (including Omega 3 fatty acids) for children in that age span.
However, look at this curious fact. Pre-school education or early childhood care is not even an integral part of the Ministry of Human Resource Development (MHRD). It is currently under the Family and Child Development ministry. So when we met the then MHRD minister a few weeks before the Right to Education Bill (RTE) was tabled before Parliament and fervently appealed for pre-school education to be covered by the Bill, he simply dismissed the plea, saying, "But it belongs to a different department and I have no powers to influence that."
More than 60 per cent of children between three to six years of age have either no or very poor access to any structured developmental or nutritional input. These are typically rural children of socially and economically disadvantaged parents. The inequity begins from their entry into Class 1 — since they are so severely underprepared to compete with other children who were fortunate to have had such developmental exposure. And for both groups the final assessment in the Class 10 exam is the same.
THE SECOND RUNG
The next issue is the sub-categorisation of primary and secondary education within school education. To begin with, it is unfathomable why the RTE Act decided to limit itself to making education a right only upto Class 8. It would have been so logical to cover education upto Class 10, making it a fundamental right of every child to receive basic education upto professional education.
The chasm is further enhanced by two critical factors: First, two different programmes (Abhiyans) deal with these two stages — the Sarva Shiksha Abhiyan (SSA) upto Class 8 and the Rashtriya Madhyamik Shiksha Abhiyan (RMSA) for education thereafter. Secondly, currently the qualifications that are allowed for teachers for these two are also different. While primary education can be dealt with by a teacher with a Diploma in Education (D.Ed. — a diploma after Class 12), secondary education needs teachers with Bachelor of Education degrees (B.Ed. — awarded after a one-year course after basic graduation in Science or Arts).
Again, I fully understand the differences in the stages of education. However, the least the government could have done was to launch SSA and RMSA concurrently and not with a gap of over nine years after the SSA was launched. While the basic objective of the government may be to focus on those specific issues and strengthen them, in the mind of the administrators, two different silos have been created and all that they have to do is juggle the budgets and resources that are available under these two programmes.
The issue of qualifications of teachers has been discussed with me by so many administrators, the key dilemma being: is it not important to have a better qualified teacher at the early stages of education such as the lower primary school? In other words, should we not insist that all teachers must have a B.Ed. degree to ensure basic quality? Should we not add the element of how to deal with children in the age bracket of six to 10 in the B.Ed. course itself?
AT THE TOP
In 2013 the MHRD launched the Rashtriya Uchchatar Shiksha Abhiyan, directed at education beyond Class 12. There is nothing against launching such a programme to help focus on higher education to enhance enrolment and offer a lot of help to some of the states that have special status linked with their socio-economic development. Once again the issue is, all these programmes were neither thought of nor announced together. Therefore, they were almost perceived as after-thoughts and in many ways stand disconnected from one another.
At the higher education level, we have several global examples before us. Higher education in developed countries has the following key differences:
The responsibility of learning is primarily on the learner
The teacher's role is that of a facilitator, mentor, problem-solver, coach and not that of a knowledge imparter
The education system is so designed that the learners are forced to independently read, refer to multiple sources and spend considerable time in the library for interpreting multiple views
Assessment is not of one kind and at one point of time. It is continuous and on multiple issues such as presenting a case, analysing a case, specific assignments and so on
The focus includes developing abilities, such as ability to analyse, communicate, present, listen to others' views, work in groups and so on, in addition to developing deeper academic understanding. The overall assessment also factors in these issues.
The real challenge is how we change the culture in our higher education institutions and have faculty that, in addition to their subject matter knowledge, are well versed with the issue of 'how adults learn'. There are many examples of faculty members who are outstanding as far as academic excellence goes but are very poor as teachers.
It is appreciable that, in a nation of 1.25 billion people with such diversity and inequity, issues are never easy to deal with. What is, therefore, needed is a long-term, comprehensive and coherent vision about our entire education system in an integrated manner, clearly identifying the linkages and viewing them in tandem and not in separate pieces. Our vision must link the current reality with the future that awaits the next generations. And this must be done keeping in mind the overall framework of our Constitution.
Dileep Ranjekar is CEO of the Azim Premji Foundation.