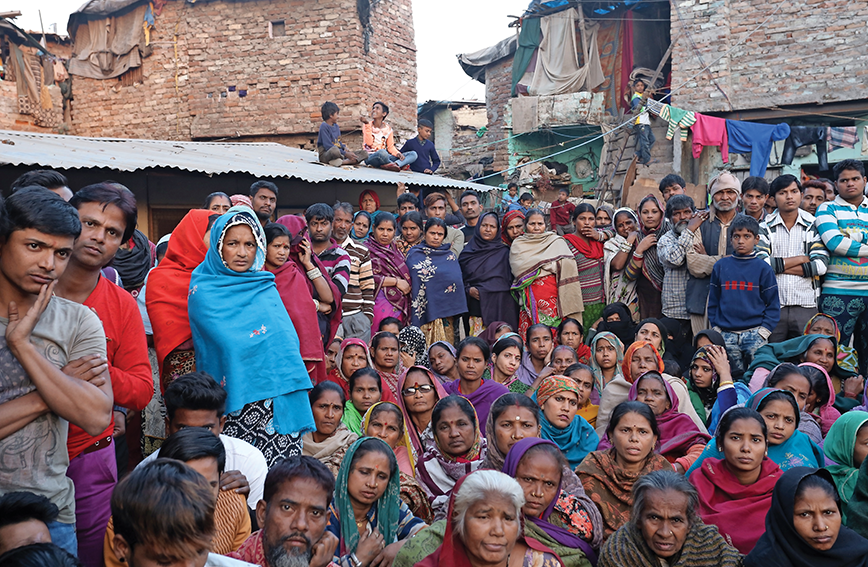 A public meeting in Kathputli. People are bewildered and worried about the future
With fear in their hearts, Kathputli performers shift
Ajit Krishna, New Delhi
Ravi Bhatt, a dhol player, stands tearfully inside his partially demolished home in Kathputli slum. He has agreed to shift but it's a heartrending decision. "Raheja sahib said after two years you will be back here in a permanent flat. Trusting in God, I allowed my house to be demolished. My parents lived and died here. I was born here," he says in sorrow.
For 50 years the Kathputli slum has been the world's biggest settlement of traditional performers. Its fetid lanes and bylanes contained a wonder world of musicians (bhopas), magicians (masihats), singers (langas), actors (behroopias), acrobats (nats) and puppeteers (kathputli).
The settlement is slowly being demolished to make way for multistoried apartment blocks where each Kathputli family will get a small flat. In the interim, they have to move to a transit camp where conditions aren't exactly ideal.
In 2009, the Delhi Development Authority (DDA) drew up an 'in situ rehabilitation scheme' for the first time, ostensibly to provide better housing and services to the residents of Kathputli. It got into a partnership agreement with Raheja Builders under which 35 percent of the 5.2 acres on which the slum stands will be given to the builder.
In exchange, Raheja would construct apartment blocks with water, electricity and toilets. Each Kathputli resident would get a flat of 30.2 square metres consisting of two rooms, a toilet and verandah. While their apartments were being built, the residents would live in the transit camp for two years.
But the DDA's plan got stuck. For the past three years, out of 3,600 residents only 527 agreed to move by 19 December 2016.
DDA began pressuring residents to shift in December. Earth mover machines appeared on the fringes of the slum, causing panic and fear among residents. The police turned up. Activists converged, ...