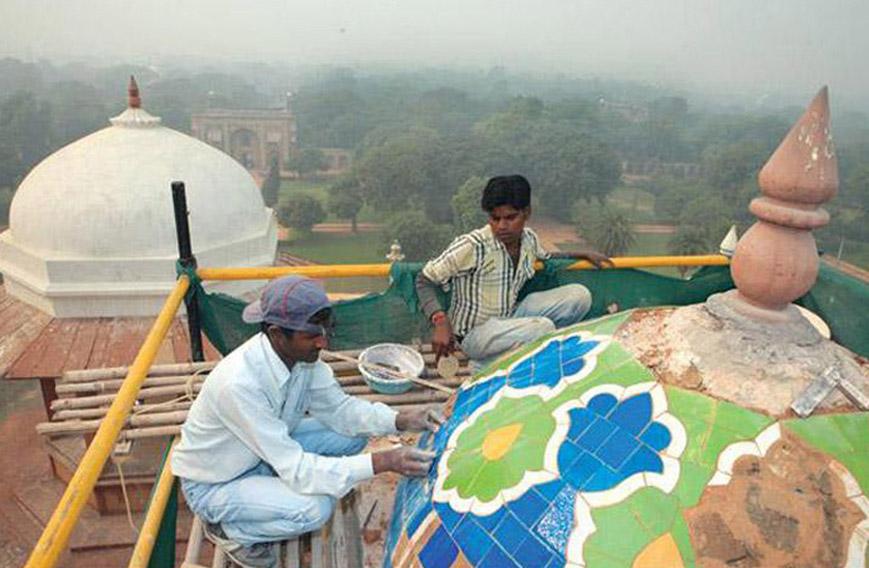 Going wow in Nizamuddin with urban renewal
Civil Society News, New Delhi
A few hundred metres from the crazy traffic in the Nizamuddin area on Mathura Road emblems of Delhi's heritage have been coming to life. It is a revival with many facets: in architecture, design, music, craftsmanship, gardens, water systems, urban planning, colours and cuisine.
Monuments have been restored with rare passion and creative skills. Old landscapes have been rediscovered. Structures lost to decades of neglect are visible once again, their perfections intact. Indigenous species of trees have been brought back in thousands.
An evening of qawwali music in the courtyard of the Chausath Khamba in the Nizamuddin Basti proves to be magical. A visit to the garden tomb of the Mughal Emperor Humayun is dizzying for all the detail in design and structure that restoration has put back in place.
Humayun's tomb belongs in the tradition of being laid to rest in a garden paradise. Babur, the first Mughal emperor, began the tradition. Humayun's tomb, commissioned in 1562 by his widow, turned out to be much grander than the Bagh-e-Babur in Kabul.
But far beyond what one can touch, see and smell, the restoration also explores the bigger zone of a mystical paradigm: the renewal of identity and spirit.
The Nizamuddin Basti, or settlement, is where Hindustani culture began. So, this is much more than an archaeological restoration. It is a rebirth in an original cradle – a wow moment. Circumstances don't often conspire to such perfection.
The dargah or shrine of the Sufi saint, Hazrat Nizamuddin, is in the Nizamuddin Basti. His favourite disciple was Amir Khusrau, the qawwali exponent and originator of Khari Boli, the Hindi we speak today. He, too, is buried here. So is the legendary poet Mirza Ghalib.
Delhi's only surviving stepwell, the Nizamuddin Baoli, built in 1321-22 is adjacent to the dargah. The ...