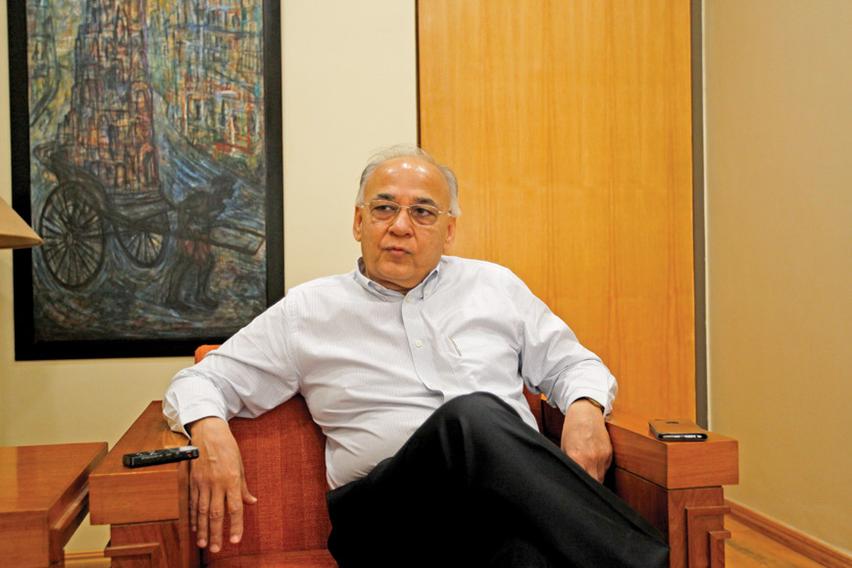 GRUH understands the small borrower
Civil Society News, Ahmedabad
GRUH Finance has vast experience in giving housing loans to small borrowers in the unorganised sector. It is an aspect of finance that is important for social inclusion, but not one that is readily taken up by big lending institutions and banks because of the challenges involved.
How does one serve small people who don't have salary slips and fixed assets and live on the street? Most players in the financial sector find it too expensive and lack the orientation. But GRUH on the other hand has built valuable domain knowledge and expertise since 1986, when Hasmukh Thakordas Parekh, the financial entrepreneur, founded the company. Before that he had built ICICI and HDFC.
Parekh wanted GRUH to serve rural Gujarat and the letters in GRUH come from the words Gujarat rural housing. The company began by serving farmers but over time shifted gear to the unorganised sector borrower in rural and semi-rural areas with a population below 50,000.
Civil Society first met Sudhin Choksey, GRUH's managing director, some years ago at a Monitor Group presentation on affordable housing. He's been a reader all this while, but when we caught up with him in Ahmedabad recently it was for this interview:
What is GRUH Finance's learning from all these years of lending to small borrowers?
When we decided to cater to the small people, it started from our objective. We were told to promote housing finance in the rural areas.
We realised there is a large population whose livelihood comes from the informal segment where they don't have sufficient proof of income — for example, farmers. We had to find methods of assessing their income. So we assessed the source of income. For farmers we found out how much is the landholding, what are the crops they grow once a year or twice a year. From sources we found out what sort of land gives what sort of yield and what the yield is if it is irrigated land.
When did you start?
In 1988. The perception then was that if you are going to rural areas, you are going to farmers. We realised that the farming community felt we were one more government agency doling out money for housing. We did experience relatively higher NPAs than the tolerance level. We discontinued lending to farmers, but we decided to continue to focus on providing housing finance in rural areas.
When you look at small towns with a population less than 50,000 and the villages you realise there are people operating in the formal segment like people employed with the government, with the railways, people employed with the few companies operating in the rural areas — but that is small in proportion to those who are in trading, business or skilled labour. We realised we needed to cater to them.
At that time you must have been the only company considering doing it?
We were the first to go to rural locations. Even today 50 per cent of our outstanding and 50 per cent of our incremental loans are at locations where the population is less than 50,000. We continue to keep that focus. You can't avoid some of the semi-urban locations because what happens after 30 years is that a small town becomes a city and the village has become bigger. That's fine and we are not going to exit it.
That's how our 50:50 combination keeps working. Around 1999-2000 we found someone like a rickshaw-puller coming to our branches and asking if we were a bank. We would say that we were a lending institution and that we gave loans for housing. The person would ask if we could give him a loan to build his house. We could not say yes because we had not found a methodology or taken a formal decision to go beyond those with formal income proof in assessing income. This type of question kept coming to us. We said, let's make a beginning. Just because somebody has a low income doesn't mean he doesn't have the character to service the loan. We removed the belief that character and ability to service the loan are correlated. In fact we found the correlation is actually inverse.
In 2001, the Bhuj earthquake happened. We had our existing customers. Some families had lost their earning members. Properties had got damaged or destroyed. We felt this was the time to come forward and give them a helping hand. So, we gave a moratorium on not having to service a loan for a couple of years and an incremental loan to reconstruct or repair their properties.
In that scenario we came across a large number of people who were affected by the earthquake and a majority of them were from the informal sector. We would be prudent and give as much as we could to people who needed to rebuild their lives. The decision turned out to be good both for the beneficiaries and us because they could rebuild their homes and we got extensive experience of the variety of jobs people get involved in.
We gave 15-year loans and the loan cycle has almost been completed. You will be surprised to know that of the `26-27 crore given to the people affected in Bhuj and Anjar not a single account ever got into the NPA basket. That gave us tremendous confidence that we could cater to a goldsmith or to somebody doing grain grinding for the household, a mason, a carpenter….
What holds lenders back from seeing demand for small loans from the unorganised sector as good business?
In the housing finance business you can't have lazy lending. In housing disbursement happens in three to four tranches. It is linked to the progress of the borrower. Now if a person is building a house of 500 square feet and he needs a loan of about `5 lakh, the money will get disbursed over 18 to 24 months. It is labour-intensive. You need to go to the site, see the site, see the title, see the plan approval. Therefore, the cost of operating for housing in a rural area is relatively higher.
If a housing finance company is operating in an urban location the density of population is very high so the productivity of people can be much higher than in rural areas. In rural areas population density is thin so you need a business model.
The transaction costs are higher and the volumes are lower. My average ticket loan is only `8 lakh. Even on outstanding loans my average loan is only `5 lakh. People tell me in 30 years you have built up a loan portfolio of only `10,000 crore. People these days want to look at large numbers. You really need somebody to have patience and do small volume business.

If such businesses were on a bigger scale, volumes would not be small…
You can't put 10 people in a place where the population is 50,000. It's not going to suddenly tap the demand. This demand fructifies over a period. How often will a family who have shelter keep changing their shelter? They will carry out an improvement or an extension. Each family has their own timing or convenience when they would like to do this. If you have a new product like a shampoo or something, maybe people can buy it straightaway but in housing it doesn't happen like that.
The declared national objective is to make the banking sector more sensitive to the needs of the underserved. What do you think can be incorporated into the mainstream from your learning?
The first ingredient is a very strong will to want to help people. That has to touch your heart. It always bothered us when we could not reach out. People would come and ask for a loan and until we had developed and branded the product we did not know whether to say yes or no. But we said there is a demand and somebody has to go through the learning curve.
How would you describe your portfolio in terms of the outstanding?
The outstanding loan portfolio is `10,600 crore. Thirty per cent of that would be people from the informal sector, mainly in the western region with Gujarat and Maharashtra constituting nearly 70 per cent. We are present in 10 states, three we have just gone to (UP, Bihar and Jharkhand). I believe these are three states where housing needs to be addressed, the density of population is also very high. Around three to four per cent would be the developer portfolio because we are in the business, small developers want money.
Your NPAs, compared with the rest?
We are in an enviable situation. Our gross NPAs are half a per cent. Even in December, it was about 0.62. We have maintained this over 10 years. People ask how we manage to maintain this. Actually, 50 per cent of the battle is won if you do your assessment properly. We have found that when you help people when they really need it, that money doesn't go bad. There is an emotional quotient.
A lot has been said about technology helping financial inclusion. What are your perceptions?
It's not as if technology can cause disruption in the rural economy. The youth in rural areas are becoming tech-savvy. But percolation will take a while. In the lending business I don't like the concept that without meeting the client or the family you can lend money. I can use technology to capture data and save time but I still need to meet you. Assessing the ability to pay can be mechanised. But understanding the willingness to pay is an art one needs to develop.
Can technology bring down your transaction costs?
It can help. We are trying to use technology as much as we can because the cost of our operations is high. You can't say in a rural area you can charge a higher rate of interest. For a while people accepted it and the regulator allowed it but it won't go on for long. The customer will not permit price differentiation just because of geographical location.
What would you suggest to the government to make it easier to lend?
My submission is not to provide interest subsidy but to provide capital subsidy. The cost of owning a house is pretty high compared to the average family income. That is where capital subsidy is required. In Gujarat the government was pretty open to that. When Modi came to power for the third time he promised to create 500,000 houses in five years. We knew it would not be possible but even if 200,000 houses could be created in five years it would be wonderful.
Immediately after he won elections in November we had a Vibrant Gujarat in January and affordable housing was a dedicated session. The Secretary of Urban Housing sat through the session and had extensive interaction with every stakeholder: the technology people who came from abroad, lenders like us, builders and everybody. They framed a very fine scheme and built in a capital subsidy. Today housing of the government is available at `1,600-1,700 per square foot. It already has a built-in subsidy of `600 to `700. That reduces the cost. So the government has been able to offer a minimum size of 350-375 square feet that will not cost more than `5 lakh. A driver, a maid or a family — generally the whole family is working — can easily service a loan of `5 lakh.
Second, from the financial point of view, a variable rate of interest is not desirable for people in this segment. You and I can understand a variable rate of interest. We can understand that the RBI has increased the rate of interest or reduced it because of liquidity or inflation or whatever. But a driver or a maid does not understand. If I have to keep varying her EMI every time the interest rate changes, or change the tenure, she doesn't understand it. She will perceive that I am extracting more money.
You need a simple product with fixed rate mortgage. It's like insurance premium. It's not variable over 15 years. Why can't we have mortgage at a fixed rate of interest over 15 years? Borrowers can plan their cash flows if they know they have to pay `1,000-2,000 on a housing loan and it's fixed. They work it out and you will have no default on the loan. For the maid, driver or rickshaw-puller what matters is how much money will be needed to build the house and how much they need to pay.
There are hurdles in terms of finance. The National Housing Bank (NHB) is a stodgy place.
Today, with liberalisation, people can raise money. They need not wait for the NHB. It should get out of the refinance business and be a regulator. It should get more players and do more evaluation. It can work closely with state governments and guide them on making more land available and what needs to be done and how. There is a need to digitise records and make rules uniform across the country. Why should every state have a different law on construction? You can have separate stamp duty but otherwise it should be uniform.