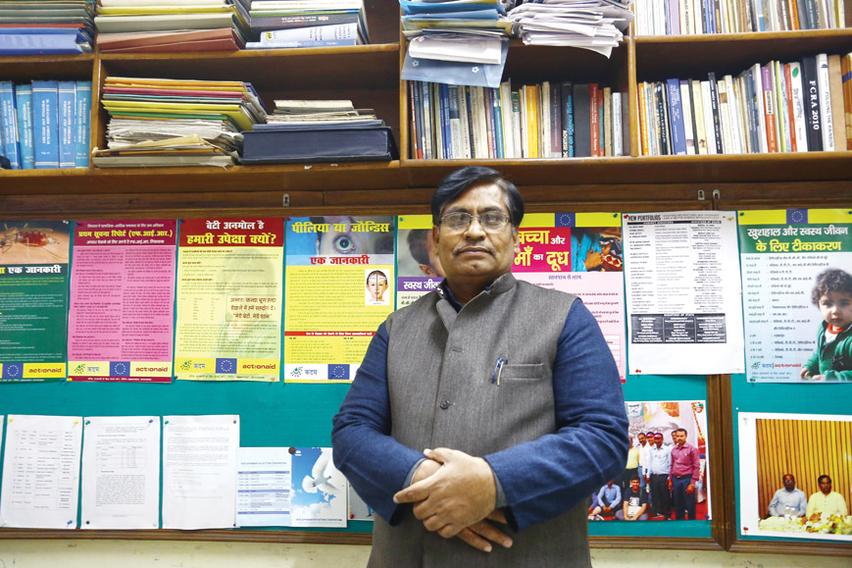 'Rohith's case is not the first and it won't be the last'
Civil Society News, New Delhi
When Rohith Vemula, a Dalit PhD student at Hyderabad Central University, committed suicide on 17 January, it brought to the fore the continuing caste discrimination on Indian campuses.
Vemula's stipend had been stopped for six months on the basis of charges that are contested. He came from a poor home and had been borrowing money to survive.
Was this harsh treatment an isolated incident or is this what Dalits face across educational institutions?
The National Confederation of Dalit Organisations (NACDOR), a confederation of 2,183 Dalit groups, has been working to empower Dalits since 2003. Ashok Bharti, Chairman and founder, says discrimination remains widespread though there is also greater awareness as the wide ranging protests against Vemula's death have shown.
Bharti has mobilised Dalit groups in most states of the country. In 2005, NACDOR's first agenda was reservation for Dalits in the private sector. At first, companies objected but then came around and admitted affirmative action was needed. In 2011, NACDOR signed an MoU with the Confederation of Indian Industries (CII) on increasing education, employability and enterprise among the Scheduled Castes (SC) and Scheduled Tribes (ST).
Alongside, NACDOR began lobbying for increasing the budgetary allocation for SC/ST communities. "It has become a talking point among Dalits now," says Bharti.
NACDOR has also been researching nutrition among SC/ST groups. It has published around 19 status reports on nutrition. It has also set up an All India Mazdoor Union of MGNREGA workers.
Bharti, 56, worked for the Union government before he became a full-time activist for the Dalit cause. Excerpts from an interview:
Is discrimination against Dalit students in colleges widespread?
Rohith Vemula's tragic case is not the first one and it won't be the last. There was a case in AIIMS too some years ago. A committee was set up and the government indicted the administration for not being impartial. At the Mahavir Medical College an entire batch of Dalit students was declared as having failed. When they complained a committee was set up. The students were re-evaluated and they passed.
In medical, technical and professional institutes discrimination against Dalit students is quite a serious issue. In the last few years out of 25 student suicides that were reported, 23 were Dalits.
Last year in IIT Roorkee, 70 per cent of students — Dalits and Adivasis — were debarred from graduating to the next class. The grading criteria had been suddenly changed and the students were going to be dropped from the rolls. Such news is reported in the media and soon forgotten.
So discrimination is endemic. Many more SC/ST students are going to college, to university and attending professional courses. This also indicates that society has progressed.
We have few spaces for advancement. Professional courses are crowded. Obviously, it becomes a 'yours or mine' situation. There are issues within the education system. There is also mindset and historical prejudices. Many teachers and administrators are biased.
Is quota one of the reasons Dalit students are discriminated against? There is resentment against reservations.
I guess quota does play a role but if you look at the Vemula case, he did not come from the quota system. I think quota is just a pretext. When students get in through the quota system, they get a little relaxation in marks and in criteria. But, overall, they have to qualify. You go to colleges and universities or visit hostels, you will hear about the discrimination and humiliation that happens with each and every Dalit student. It's a mindset.
The Scheduled Caste and Scheduled Tribe (Prevention of Atrocities) Act has recently been amended. Can Dalit students facing discrimination use this law?
The new law applies to all SC/ST students. We would certainly advocate that it be used to fight discrimination, exclusion and humiliation, whether teachers or a colleague are doing it.
It is difficult to implement because they will have to prove that the discrimination being done is due to caste and prejudice. There are certain ways of excluding. Hate and humiliation are not just physical gestures. A subtle kind of discrimination is practised in educational institutions. People will not be able to figure out that they have been victimised.
What can be done to prevent discrimination in universities?
One issue that we need to look at as a country is the character of our educational institutions. Forget Dalit or Adivasi. Have we designed our educational institutions for people who are not urban and who speak a non-elitist language? How do they cope with the mechanisms of the institution? Unfortunately, most educational institutions, particularly professional ones, are designed for the urban elite. They cater to them and they want the elite to dominate.
Even an upper caste student from a rural background won't have much of a future there. They will also be looked down upon. They might find some caste sympathy among their group, but not much. So I think we really need to examine whether our educational institutes are becoming more and more alienated from the reality of the rural student.
We should conduct a thorough inquiry into how education is being imparted. The Jawaharlal Nehru University (JNU) used to be the place where any student from a rural area could come and get admission without problems. Many of them did extremely well and went on to build successful careers. If you came from a rural background or if you were SC/ST or OBC you would get bonus points. But that too is changing.
Do we know the social composition of lecturers and professors in universities?
I can say that the quota is not being filled up. Around 50 per cent of seats, which should have been filled by academics from the SC/ST/OBC groups, are lying vacant.
The SC/ST/OBC category consists of more than 3,000 communities, including Muslims. Some of the advanced castes have also been included in this grouping because of the criteria of backwardness set by the Mandal Commission.
But shouldn't all government universities and colleges fill these as a matter of routine?
They don't try to. In Delhi University thousands of teaching posts are lying vacant. The quota is 15 per cent for SC and 7.5 per cent for ST. In fact, in the past, the University Grants Commission (UGC) put pressure on universities to fill these vacancies. But implementing quota or reservation depends on the well-meaning person.
Would you suggest a formal mechanism so that tragedies like Vemula's suicide do not happen?
There are a few things that they must do. For instance, they must find out why their systems are not conducive to the entry of SC/STs. Where are the barriers? Unless we identify barriers all suggestions will be futile.
So you are suggesting an audit…
My suggestion is that no educational institution should be allowed to audit itself. You need an external auditor who looks into your processes. The UGC can do it or it can ask the Comptroller and Auditor General (CAG) to create a team.
Has any such social auditing taken place?
No, only a financial audit is done. Inclusion is a serious issue because our society inherently practises exclusion. It is taken as a virtue. When we asked an international agency how many of the people they support came from the excluded communities we found hardly anyone. They introduced us to 40 organisations they supported and only one was led by a Muslim. There wasn't a single organisation led by a Dalit or Adivasi or backward caste person that they were supporting.
Even if organisations hire SC/ST/OBCs they don't know anything about their socio-economic background or their culture. They are just employees doing a job. The UGC did create centres for exclusion and discrimination in universities but I don't think they look into their own university's processes and see if these are inclusive.
Colleges are ranked on how their students do, what sort of companies hire them. Nobody ranks a college on inclusion.
We need to rank colleges on inclusion too. Do an adequate number of students who get admission through quota, graduate? You recruit a reasonable number of SC/ST students but many could be dropping out. If a person has passed a competitive exam and is unable to perform in your institution then what is the reason? Something might be wrong with the institution and not the student. They are, after all, citizens of India. The university is maintained by public funds to which they will contribute.
Are there any universities that are practising inclusion? Any best practices?
Perhaps some universities in Maharashtra. But we haven't come across any exemplary example. People do assert themselves but it comes at the cost of their careers. We are losing talent.
Our notion of merit is also questionable. It's about how you get marks and not how much effort you put in. If you look at the IIMs, there are several steps to get admission. They have debates, a viva exam and group discussions.
These processes favour people with deep pockets and those who come from an urban background and well-qualified communities. Rural youth are pitted against them. How can they compete?
So universities and colleges have to begin with their faculty and administration. They need to understand changing social dynamics and social geography. They need to realise that they are dealing with communities that have been historically prejudiced. Despite so many barriers, if students from depressed communities reach university, it is not a small thing.
The government managed to curb ragging in colleges…
Yes, because the state invested heavily in a mass education campaign, in legal mechanisms and in strictly enforcing the law. The government did this because their own children were being ragged. It was not happening just to Dalits or Adivasis but to everyone.
Is it possible to use the same methods to curb discrimination?
Absolutely. Certainly, the government can do it and I believe the environment is ripe. Every young Dalit or non-Dalit is aware of Vemula's case. It gives us a springboard to make the campus free of discrimination, exclusion and caste bias.
Do SC/ST students receive education stipends from the government on time?
Across the country, fellowships to students are not given on time. They have not implemented direct benefit transfer in any of the states for this. A large number of schoolchildren don't get their money on time. Their school session begins in April after the exam. Students don't get books or uniforms until July.
Is our academic session in favour of working people? Exams take place in March which is the harvesting season. Every Dalit or Adivasi family has to work. The child is expected to help the parents. How will they perform in their exams? Why can't we have exams in December and begin the school session in April? Money will then be available in December or January for books and uniforms.